"Anti-Zionist" Australian Politician Amanda Fazio Unmasks Herself As An Antisemite
Australian NSW Labor executive Amanda Fazio has made the news for the wrong reasons, baring her antisemitic claws:
The NSW Jewish Board of Deputies' president David Ossip has slammed NSW Labor executive Amanda Fazio this morning for making an antisemitic rant on a social media post, in which she described Jews as "a race of whingers".

Ossip's quick response followed The Australian newspaper reporting last night that Fazio recently criticised attacks on US actor Bradley Cooper for wearing a prosthetic nose in his biopic about Jewish conductor Leonard Bernstein.

—

In Fazio's Facebook post, she wrote "Here we go again. The race of whingers complaining. By their logic, no Jewish actor should ever be cast as a non-Jew".

The Australian also reported that Fazio dismissed suggestions that the remarks in her Facebook post may be found to be offensive, after being condemned by Jewish communal organisations.

In a statement from the NSW Jewish Board of Deputies about the matter, David Ossip said, "These bigoted comments are nothing short of despicable and seek to silence the Jewish community by making it seem as though there is something untoward, problematic or unusual about Jews engaging in public debate."

"Ms Fazio may find it uncomfortable but Jews – individually and collectively – have as much of a right as any other group to express their views," Ossip said.

"Aside from the prejudice inherent in her comments, Ms Fazio has demonstrated her complete ignorance of the Jewish community by pejoratively referring to a community of great diversity and complexity as a single 'race'.

"Bigotry such as this from a former parliamentarian may have found a home in Jeremy Corbyn's UK Labor Party but it should not be tolerated in our cohesive, multicultural society."
Not surprisingly, Fazio is an "anti-Zionist-not-antisemite"; she is involved in the "pro-Palestinian" movement, and understood to have joined Labor Friends of Palestine at the Australian Palestinian Advocacy Network fundraising events.
A look at her Facebook profile reveals the depth of her hatred for the Jewish state. She has accused us of attempted genocide:
posted this after Shimon Peres died:
and has basically shown support for Hezbollah terrorists: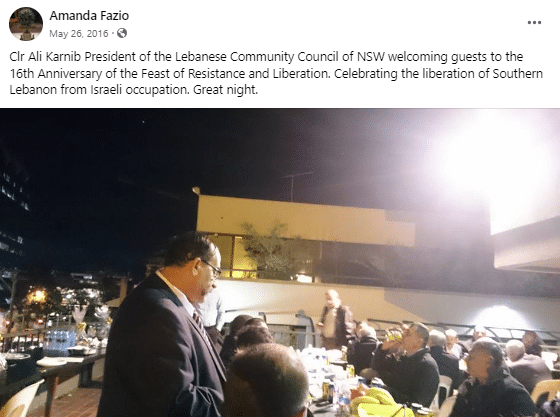 Hey Amanda, thanks for playing anti-Zionist-not-antisemite. Unfortunately