The following happened at a movie theater in Kfar Saba.
As a huge fan of the Marvel Cinematic Universe, this comic strip - apparently from Marvel Superhero's Contest of Champions (1982) - puts a smile on my face. Or perhaps it is a grimace.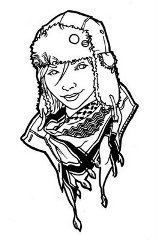 Hot on the heels of Rachael Ray, comes the latest "celebrity" to succumb to jihad chic: comic book character Kiden of the Marvel comic...