Home
Tags
Nation of Islam
But you know what? I am not a bigot! And you know who has my back on this? The Nation of Islam Security Team that we hired for the Women's March!
According to The Washington Post, White donated $500 from his constituent services fund to sponsor a Nation of Islam event, where leader Louis Farrakhan said "powerful Jews are my enemy."
More of her hate comes to light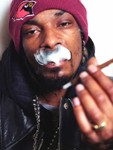 Yesterday I reported that Lindsay Lohan was thinking of converting to Judaism. Now I read that Islam is also getting a raw deal. Snoop Dogg has...