I'm guessing she isn't going to be spending much of her new-found freedom at home with the kids.
Unless it's to train them.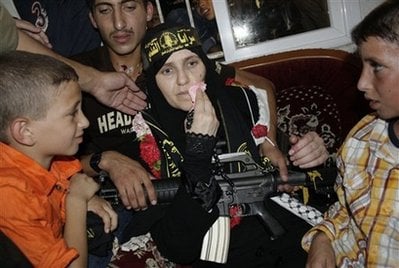 Released Palestinian prisoner Fatma Ziq, center, who returned to Gaza after her release from an Israeli jail, holds a rifle as she sits with her children in the family house in Gaza City, Friday, Oct. 2, 2009. in Gaza City, Friday, Oct. 2, 2009. Israel freed 19 Palestinian women prisoners on Friday after Hamas militants handed over a video disc offering a first glimpse of an Israeli soldier they've held captive for more than three years. (AP Photo/Ashraf Amra)
Support more stories like this.