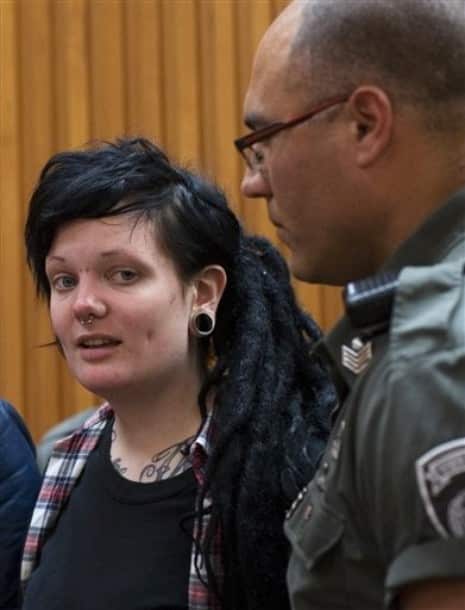 Australian national Bridgette Chappbell (other sources have it as 'Bridgette Chappell' or 'Bridget Chappell', so this is either a typo or Ms Chappell's lying extends to the spelling of her name -ed.) , right is seen during an Israeli Supreme Court hearing in Jerusalem, Monday, Feb. 8, 2010. Chappbell and another woman were arrested by the Israeli military in the Palestinian-ruled West Bank town of Ramallah on Sunday. The two women are members of the International Solidarity Movement, which has been active in the Palestinian territories for several years. The Israeli military said the two women were arrested for overstaying their visas, but also alleged they were involved in violent protests in the West Bank. (AP Photo/Dan Balilty)
I am sure you can all tell from the photo that Ms Chappell is a real winner. You can be sure she's full of bull, besides looking like one with that ring through her nostrils.
Here's all you need to know about her: this article she wrote in which she empathizes with terrorists who murdered an innocent Israeli man and contains blatant falsehoods which are even more extreme than those published by the rabidly anti-Israel, palestinian Ma'an News.
For instance, compare this Ma'an account of the killing of one of the terrorists – based on "palestinian witnesses" – with the version published by Chappell.
"Dozens of Israeli soldiers ransacked Anan's home at 3am firing gunshots and grenades, causing a fire to break out in the next door warehouse for plastic chairs. The soldiers [entered the building] demanding Anan, and when we told them he was at work with the security forces the soldiers evacuated all nine families who live in the building. We were gathered at the nearby home of the Al-'Amoudi family," Anan's brother Nidal told Ma'an.
Chappell:
Half an hour later, Israeli soldiers entered Nablus' Ras al-Ain neighborhood. Quickly occupying several homes surrounding the house of Anan Subih, soldiers began firing anti-tank missiles at the upper levels of the building, blowing a giant cavity between the third and fourth stories. Farid Subih, brother of Anan, reported that soldiers entered the house on foot, firing live ammunition and destroying property as they forced family members out in to the street. Subih was found hiding in the rubble created by rocket blasts, where he was immediately executed.
Similarly, compare these two versions of the killing of another of the terrorists.
Ma'an:
Sakarji's niece, 20-year-old Hind, said "Israeli forces ransacked Raed Sakarji's home and shot him in front of his pregnant wife and two children. When his wife Tahani, 30, tried to defend him, she was hit in the feet with shrapnel."
Chappell:
According to Tahani Jaara, the wife of Raed Sarakji, the Israeli military then forced their way in to their home in the Old City at 2:30am, where Sarakji was shot in the head immediately. The force of the close-range fire was so great that it caused his head to split in two. As his pregnant wife ran forward to catch his falling body she was shot in the foot. Only at this point did soldiers confirm the identity of the man just executed, ordering his wife to hand over both their IDs and mobile phones. Soldiers opened fire once again on his now lifeless body, then ordered his wife to summon their children to behold the grisly remains.
It's a similar story with the versions of the killing of the third terrorist.
Ma'an:
A second man, Abu Sharkh, was removed from his home and shot outside, Hamdan said.
Chappell:
Ghassan Abu Sharkh's brother Diyaa Abu Sharkh said Israeli military forces stormed their home in Nablus' Old City at 12am. Sharkh's wife and four children were forced outside and the entire family was handcuffed, whereupon Sharkh's eldest son was kicked and beaten by soldiers with the butts of their guns. As Sharkh descended, unarmed, from the stairs inside in hopes of surrendering, soldiers immediately opened fire on him, riddling his body with bullet holes. Outside, Israeli soldiers continued to brutally beat Sharkh's son while their counterparts prevented Red Crescent ambulances from entering the area.
Besides demonstrating the untrustworthiness of palestinian witnesses, the discrepancies should also raise alarm bells regarding Bridget Chappell's agenda, if her membership in the ISM didn't already.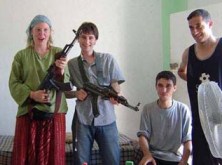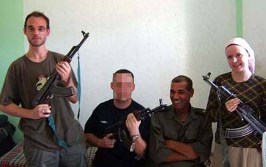 Please help ensure Israellycool can keep going,
by donating one time or monthly
Facebook Comments
comments