While I am able to drive around in silent, smooth electric vehicle luxury (without a care in the world about how far my battery will take me) those poor, opressed Palestinians in the Concentration Camp Gaza are forced to suffer with noisy, slow, smelly cars like this brand new BMW: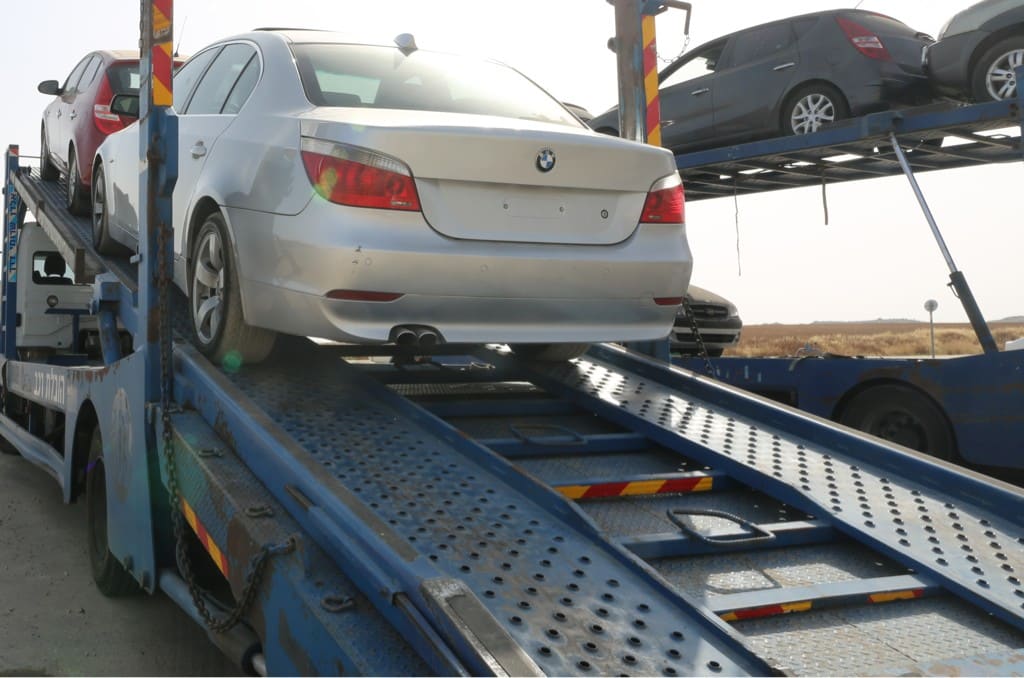 This photograph was tweeted out by the IDF Spokesperson, Avital Leibovich a while back but it's just one of the many deliveries of goods that flow smoothly into Gaza after Israel conducts the necessary checks on what is going in. Even goods (such as fertilisers) that can be used to make rockets that rain down on our citizens, are allowed in after checks. The cruelty is overwhelming.
https://twitter.com/AvitalLeibovich/status/207450442467262464/photo/1
Here are some of our previous posts about conditions in "Concentration Camp Gaza"
Oh the humanity, Gaza's car supply is too high.
The general administration at the Gaza government's transportation ministry announced Wednesday that in February the number of cars entering Gaza was reduced due to oversupply.

Head of imports at the ministry Basel Deeb told Ma'an that the number of cars transferred...Read More »

---
Overnight it seems that the IDF did some landscape gardening from a few thousand feet with a carefully placed bomb.
I say carefully because either side of the empty ground they hit along Gaza's prime beach front hotel real estate rest the world's weary media. They have to contend with the...Read More »
---
When the missiles from Gaza are raining down on Tel Aviv and the rest of Israel where is the safest place for a darling luvvie international journalist to run to?
Why "Concentration...Read More »
---
Named after a Hamas terrorist leader.
Thanks to "US ally" Qatar.
Qatar is set to finance plans to build a sports city in the Gaza Strip, a senior official has announced.

Mohammad Al-Madhoun, Palestinian Minister of Sports, Youth, and Culture, said in comments published by Kuwait News Agency...Read More »

---
But do they have Android?
Apple's new iPhone 5 is selling well in the Gaza Strip despite inflated prices, reaching the Palestinian enclave via smuggling tunnels even before high-tech hub Israel next door.

The cutting edge smart phone is being snapped up for almost double what it costs in...Read More »

---
Older Entries »
About the Author
Brian of London is not the messiah, he's a very naughty boy. Since making aliyah in 2009, Brian has blogged at Israellycool. Brian's interests include world peace and an end to world hunger. Besides blogging here,
Brian of London now writes for PJ Media
. Brian of London also hosted
Shire Network News
Filed Under: Brian of London • General