Yesterday evening a British soldier was knocked to the ground by a car and then butchered in the street as people watched. One of the butchers was happy to speak to passers by. You can read all about it in the press. The videos are out there too.
From the Times of Israel Yisrael Medad pointed out the following paragraph:
The Associated Press examined the footage to verify its authenticity, cross-referencing images from the scene, aerial shots, the location of a car behind the alleged attacker and the appearance of a body and a car in the background. There was no immediate way for the AP to verify who the cameraman was.
Thirteen years after Mohammad Al Durah and they have never applied this level of fact checking to any of the fake footage that comes out of Pallywood, even less acknowledge that they even tried to do it.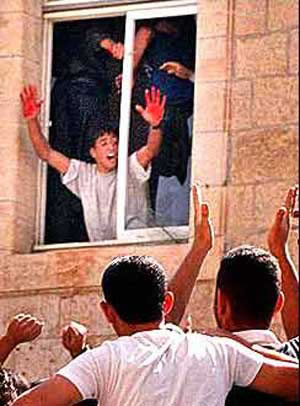 And of course, it's pretty clear this guy is a terrorist right? He's not a militant stabbing a "settler" at a bus stop. And even though it appears his target was "military" we're not going to build in a ton of background material to the story justifying his actions are we?
Here's how the BBC work hard to help "explain" why Jews should be stabbed with impunity and why the last dead Jew had it coming because they have the temerity to live in "Muslim lands"
Tuesday's attack is the first time a settler has been killed by a Palestinian in the West Bank since 2011.

Earlier this month violence flared between Israeli troops and Palestinians protesting against the continued detention of a group of Palestinians on hunger strike in Israeli prisons.

According to Reuters news agency, nine Palestinians have been killed in various incidents with Israeli forces in the West Bank since the start of this year.

About 500,000 Jews live in more than 100 settlements built since Israel's 1967 occupation of the West Bank and East Jerusalem.

The settlements are considered illegal under international law, though Israel disputes this.
But hey, you're welcome to it. Parts of East London are now Muslim lands and you, my British friends, are occupiers in your own lands too.
Look at the way these people kill you on what were your streets. They don't run away and hide, they give interviews with blood stained hands. They're proud of slaughtering infidels.
We've seen these bloody hands before. I'm very sorry you're seeing them now in London.
Please help ensure Israellycool can keep going,
by donating one time or monthly