That moment you tweet an insult and get your facts wrong.
Is it me, or does Kahanist MK Michael Ben Ari look either high or a maniac (or both)?? http://t.co/z0g8sCY2J7 pic.twitter.com/fgEO7LWROr

— Tikun Olam (@richards1052) September 18, 2013
Michael Ben Ari is not an MK (Member of Knesset) but rather a former MK. Anyone who followed the Israeli elections would know this, as would someone who did a simply Google search and clicked on the first entry (from Wikipedia). But apparently this self-proclaimed Middle East expert did not.
It is just too easy.
As for criticizing Ben Ari for looking high and/or crazy, that glass house cliche seems to spring to mind.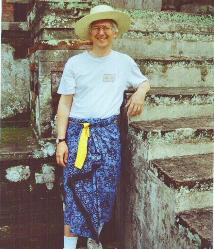 Update: There is plenty more douchy goodness on his Twitter feed, including some hypocrisy about the use of bad language.
@BarRebecca I'd say the "sorry asshole" is some1 who has 2 stoop 2 such language. @jazhowe1968

— Tikun Olam (@richards1052) September 18, 2013
@DailyDriveler Thanks. But gee, this jackass thinks it was a piece of shit. That's literally what he said. @J1mmyJ0hns0n

— Tikun Olam (@richards1052) September 18, 2013
@J1mmyJ0hns0n What horsehit. I'm sensitive 2 mental health issues fr my own family experience. Talk about a mess of an argument fr you…

— Tikun Olam (@richards1052) September 18, 2013