Suffering Fools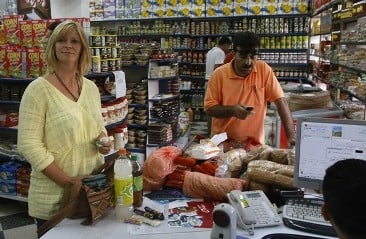 British journalist and peace activist Lauren Booth, sister-in-law of former British premier Tony Blair who is now an international Middle East peace envoy, shops at a grocery store in Gaza City on September 3, 2008. Booth said today she is trapped in Gaza as Israel refuses to let her leave the Palestinian territory she entered aboard a protest boat. ponders the devastating food shortage in Gaza.
(hat tip: SoccerDad)
But Booth needn't worry for too long – help is on its way!
International human rights advocates plan to stage another siege-breaking voyage to the Gaza Strip on 22 September after two boats challenged an Israeli military blockade in August.

Palestinian lawmaker Jamal Al-Khudari, head of the Popular Campaign Against the Aiege, announced on Thursday that the activists will set sail from Cyprus, and that the new boat will have on board members of the European Parliament and doctors.

The Boat will also pick up nine international activists who are stranded in Gaza following the first voyage of the Free Gaza Movement. Among the stranded foreigners is British journalist Lauren Booth, the sister-in-law of former British Prime Minister Tony Blair.
What makes this even more miraculous is that the first voyage alone has the Free Gaza tools $300,000 in debt. Lucky they are all socialists, I guess.
Update: Jamal Al-Khudari, the "Palestinian lawmaker" mentioned above who is obviously in touch with the Free Gaza tools and is helping to coordinate things, is a member of Hamas.