Adventures of a Splodeydope
When I saw this photo late Friday afternoon, the following thoughts crossed my mind: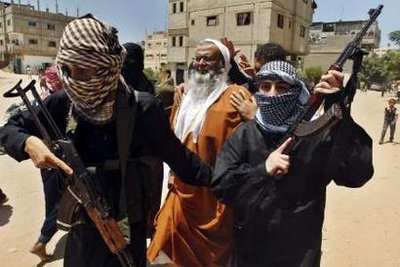 Members of a group called Jund Ansar Allah surround their leader Abdel-Latif Moussa (3rd L) after Friday prayers in Rafah in the southern Gaza Strip August 14, 2009. Islamist radicals from the Palestinian group called Jund Ansar Allah defied the Hamas rulers of Gaza on Friday by declaring an "Islamic emirate" in the territory and staging a defiant display of arms. REUTERS/Ibraheem Abu Mustafa (GAZA POLITICS CONFLICT IMAGES OF THE DAY)
Is that beard even real?
He kind of looks like a cross between Santa Claus and Obi Wan ben Kenobi.
I'm sure he is nothing like Santa Claus, although he might be one to give out sweets – after a suicide bombing.
He's got some serious protection there.
As it turns out, bodyguards are not much use when you decide to detonate your explosive vest.
Hamas security said Saturday that the leader of an Al-Qaida-inspired group in the Gaza Strip has been killed during a fierce gun battle that began on Friday.

Abdel-Latif Moussa, the leader of Jund Ansar Allah, was killed when fighting resumed with Hamas forces after dawn Saturday, Ihab Ghussein, a Hamas Interior Ministry spokesman, told The Associated Press.

He said Moussa detonated an explosives vest he was wearing during the fighting.

"The so-called Moussa has committed suicide…killing a mediator who had been sent to him to persuade him and his followers to hand themselves over to the government," Ghussein said.
Meanwhile, karma's a bitch.
Israel Radio on Friday quoted Palestinian reports saying that Abu-Jibril Shimali, a commander of the Hamas armed wing, was killed in the clashes.

The Iz a Din al-Kassam brigades that Shimali commanded orchestrated the kidnapping of Israel Defense Forces soldier Gilad Shalit.
But back to Abdel-Latif Moussa and Jund Ansar Allah, whom it seems were never really known for thinking things through.
Jund Ansar Allah first came to public attention in June after it claimed responsibility for a failed attempt to attack Israel from Gaza on horseback.
Update: More on the incident, including head Hamashole Ismail Haniyeh's (predictable) accusation that Israel was somehow behind it.