The Family Guys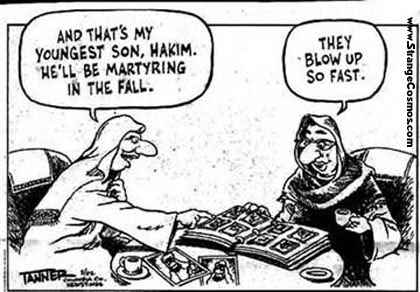 A spokesperson for "peace partner" Mahmoud's terrorists has refuted Israeli suggestions that terrorists released for Gilad Shalit will go back to terrorism.
They'll be too busy raising their families…..to be terrorists.
The spokesman for Fatah's military wing on Sunday responded to comments from Knesset member Aryeh Eldad, who said the prisoner release had encouraged a new wave of terrorism.

Abu Uday of the Al-Aqsa Brigades told Ma'an that no faction would ask prisoners to return to the resistance struggle, adding that the priority for released detainees would be to raise their families.

The struggle will be handed to the next generation, Uday said, adding that it is the right of detainees to return back to their families after having spent so long in incarceration.
And still on the topic of Mahmoud and the released terrorists:
It is no secret that Hamas was strengthened by the conclusion of its ransom deal with Israel in which over one thousand Palestinian terrorists were freed in exchange for the safe return of Gilad Shalit. But its Fatah rivals are not taking this triumph lying down. In the wake of the announcement that Hamas will be paying each of the released killers, almost all of whom are either directly or indirectly responsible for the murders of Jews, a bonus of $2,000, the Palestinian Authority has also decreed that it will be paying every one of the murderers a separate honorarium though the amount was not specified.