Douchebloggery Of The Day
In his latest post, DouchebloggerTM Richard Silverstein "outs" the suspect in the price tag attacks on Jerusalem's Peace Now office, who then subsequently sent email death threats to Peace Now activists. Silverstein knows who it is, due to some amazing detective work the fact the person apparently sent the email death threats from a gmail account bearing his own name.

http://www.richardsilverstein.com/tikun_olam/2011/11/27/exclusive-peace-now-price-tag-suspect-identified/

But as usual, Silverstein is more interested in getting the "scoop" than doing proper research and getting his facts straight. And if anyone gets hurt, it is fine, because they are ideological opponents of Silverstein anyway.

For a start, Silverstein takes for granted the fact that the email account is authentic. He does not question the likelihood that someone sending death threats to others would likely cover their tracks, and not use their real name. He also does not consider the possibility that this individual is clearly mentally disturbed, which would be even more apparent if he had sent the death threats using his real name. No, Silverstein instead prefers to leverage this as another attack on the Israeli Right, and as usual won't let common sense and logic get in the way.

In another example of his unreliability, Silverstein gets even the most basic of facts incorrect, when he notes the suspect's age as being 18.

[screenshots used in likely case Silverstein amends post] 
 Only to contradict himself later on in the comments.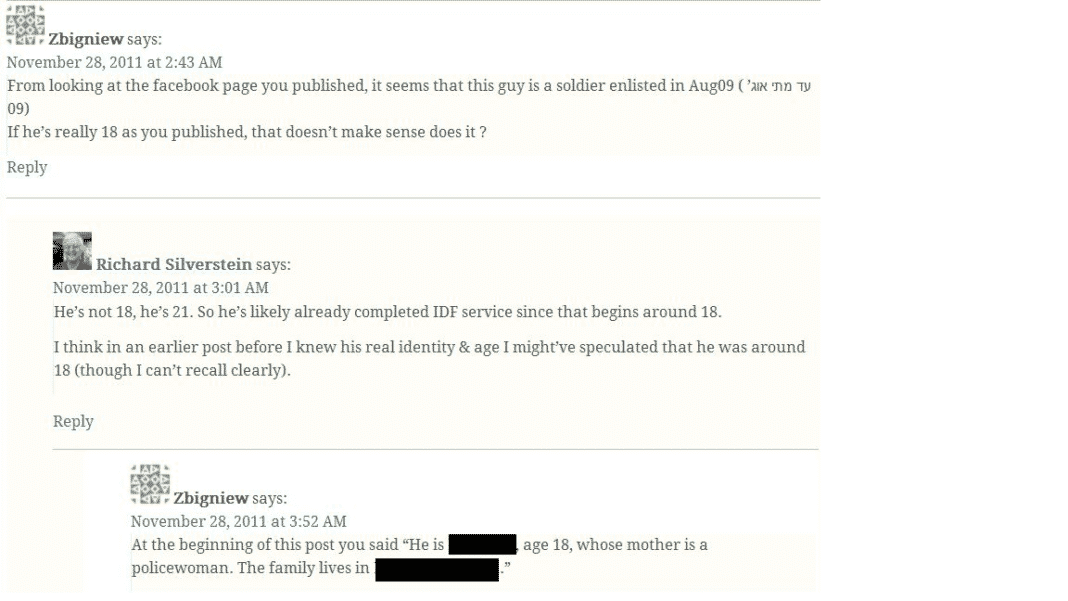 In his rush to outscoop all amd sundry, Silverstein also reveals what he thinks is the alleged suspect's Facebook profile (following taken from an earlier version of his post published here).
This is his likely Facebook profile [link removed but available in post] in which I note he "curses" leftists.  Visit now, as it's likely to be shut down or made private at a moment's notice.
Only to delete the reference to this profile later on and post a few others instead:
I've been going back and forth regarding online footprints for xxxx since there are a number of possible suspects sharing the same name possessing right wing views.  One of my Twitter followers suggested this xxx xxxx as a possibility [link removed but available in post].  The fact that it seems the Facebook profile for this D.O. was removed, plus in the blurry image the guy is pointing a gun at the camera, with a possible IDF tatoo on his arm, and some stridently right-wing material in his Info page, lead me to rank him as our man.  The blurred images of xxxx in this Nana video seem to offer a distinct resemblance to this individual, who appears short and stocky.  Another Israeli I consulted notes that in this FB profile says he attended Harel High School in Mevasseret.

A Rotter member has identified another Facebook profile which xxx xxxx is explicitly using now (though not in his name).  But it appears to be one he created in the past few hours or day at most.  I believe he deleted the one above because it had his picture and lots of personally identifying information and is now using the one linked in this paragraph.
Meanwhile, for me, the following is the funniest part of the post:
I should warn the police, the suspect and his family that if he reoffends and threatens anyone else I'll publish his home address and phone number here.  There may be some victims who would like to respond to him in kind.  I have a very firm rule against such personal invasion of privacy.  But in this case, his second round of criminality and invasion of the personal lives and privacy of Peace Now activists more than merits such a possible response.
This coming from the guy who once tweeted this:

So it seems Silverstein has the policy "Ruin a person's privacy now, ask questions later."
Which I guess to him is a small price to pay when the people whose lives you are trying to ruin are "evil" Rightists.