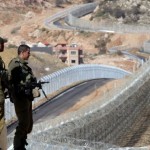 Earlier today, the Syrian army fired a mortar at an IDF post on mount Hazeka in the Golan. It's was the last line of numerous Syrian munitions landing in Israel over the past weeks, including a tank shell last week. In response, Israel fired retaliatory fire towards the mortar battery.
Many headlines ran the following:
For first time since Yom Kippur War: Israel fires warning shot at Syria
This was the first time Israel has directed weaponry at its northern neighbor since the Yom Kippur War in 1973.
That is factually incorrect.
In 2003, in response to Syria harboring Palestinian terrorists who carried out suicide attacks in Israel, Israel destroyed terrorists camps inside Syria.
It's not just Haaretz that got it wrong, but also the BBC, Sky News, The Guardian, Al-Jazeera, The Jewish Chronicle, Jerusalem Post, Ynet and Reuters, who cite Israeli radio for that bit of information.
There's also that little Syrian nuclear reactor that foreign media say was destroyed by Israel.
So today's retaliatory fire was certainly not the first time since 1973 that Israel fired on Syria. Please shove this in every dumb reporter's face you can find.
Please help ensure Israellycool can keep going,
by donating one time or monthly