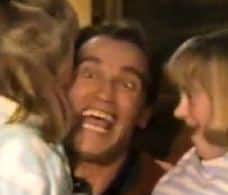 No, I don't mean he assisted in dealing cocaine to the terrorist organization.
What I meant is Schwarzenegger was apparently Israel's secret weapon in helping get Hizbullah terminated blacklisted by Austria.
Israel's Foreign Ministry had some help from Hollywood in convincing at least one country to label Hezbollah's military wing a terrorist organization, according to Hebrew-language daily Maariv.

Actor Arnold Schwarzenegger, an Austrian by birth and the former governor of California, sent a letter to the country's chancellor, Werner Faymann, to express his belief in the importance of an EU move to blacklist the Lebanese terror organization.

According to Maariv, Austria initially vehemently opposed the move, but Israeli Prime Minister Benjamin Netanyahu spoke to Feymann and the country's president, and with the help of Schwarzenegger was able to convince the Austrians to support the measure.

The decision to put Hezbollah's military wing on the European Union terror list required the unanimous consent of the bloc's 28 members and was passed unanimously.

Israel's Foreign Ministry lobbied several EU holdouts, such as Ireland, in recent months to pass the measure.
As Tablet explains, this is not Arnie's first foray into pro-Israel activism.
The Jewish state was the first country Schwarzenegger visited after being elected governor, and he has described his feelings towards it as "love at first sight." As California governor, he signed a bill that divested state pension funds from companies linked to Iran. Oh, and here's a video of him wishing happy birthday to the city of Tel Aviv from the governor's podium:
Zionist Austrian of DeathTM
It is great to see Arnie relates to Hizbullah as he does to "chunk food" – as the enemy.
Please help ensure Israellycool can keep going,
by donating one time or monthly