Palestinian Dumbassery Of The Day
IDF soldiers today killed a palestinian who reportedly opened fire on them, as well as civilians.
But the palestinians deny it, claiming he was just an innocent man.
Palestinians on Wednesday gathered for the funeral of Muhammad Mubarak, a 22-year-old man who was shot dead by Israeli forces earlier in the day.

A Ma'an reporter said a funeral procession brought Mubarak's body from Ramallah Governmental Hospital to a cemetery in al-Jalazun refugee camp, where the man was laid to rest.

A group of masked men fired shots into the air during the procession.

Mubarak's father said he was shot dead without reason, denying army claims that he was armed and fired at Israeli forces.

He said his son worked daily in the area where he was shot dead, near the village of Ein Siniya.
Here is a screenshot of the Ma'an News report I just quoted.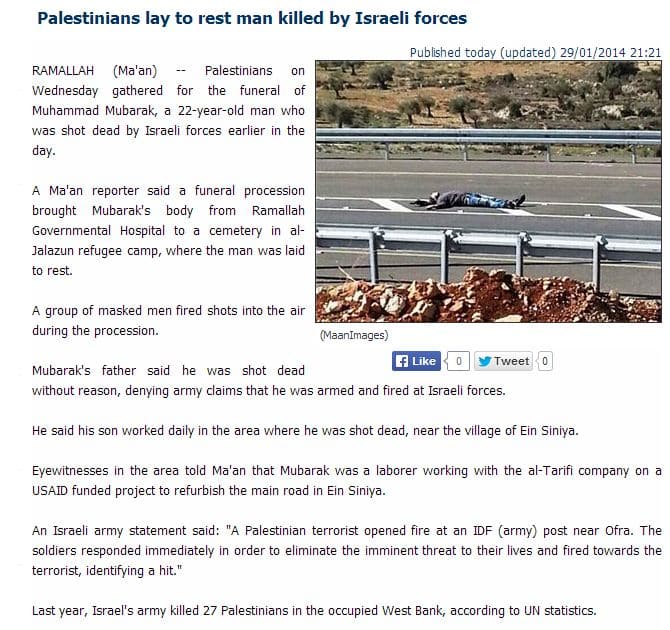 Notice something about the accompanying photo?
Let's magnify it in case you didn't.

That's right. The man's body is pictured, still holding the freakin' gun.
Nice going, Ma'an!
Update: Via Reuters:
The Palestinian Information Ministry said the man had been unarmed and had been holding a stick or rod he was using to direct traffic.
Interesting looking traffic stick.
Update: Here's a close-up of the laborer/traffic cop, as tweeted by Hamas.
??? ???? : ?????? ???? ????? ????? 20 ??? ?? ???? ???????? ????? ?????? ??? ???? ??? ????? ????? ??? 5 pic.twitter.com/0r783BERA8

— ???? ?????? ?????? (@paldf) January 29, 2014