ScarJo Walks Away From OxFam
Scarlett Johansson has split from Oxfam, because of their promotion of BDS.
And because she's awesome.
Scarlett Johansson is ending her relationship with a humanitarian group after being criticised over her support for an Israeli company that operates in the West Bank.

A statement released by Johansson's spokesman said the 29-year-old actress has "a fundamental difference of opinion" with Oxfam International because the humanitarian group opposes all trade from Israeli settlements, saying they are illegal and deny Palestinian rights.

"Scarlett Johansson has respectfully decided to end her ambassador role with Oxfam after eight years," the statement said.

"She and Oxfam have a fundamental difference of opinion in regards to the boycott, divestment and sanctions movement. She is very proud of her accomplishments and fundraising efforts during her tenure with Oxfam."

Earlier this month, "The Avengers" and "Her" actress signed on as the first global brand ambassador of SodaStream International Ltd., and she's set to appear in an ad for the at-home soda maker during the Super Bowl on February 2.

SodaStream has come under fire from pro-Palestinian activists for maintaining a large factory in an Israeli settlement in the West Bank, a territory captured by Israel in 1967 and claimed by the Palestinians.

In response to the criticism, Johansson said last week she was a "supporter of economic cooperation and social interaction between a democratic Israel and Palestine."

Oxfam took issue with Johansson, noting it was "considering the implications of her new statement and what it means for Ms. Johansson's role as an Oxfam global ambassador."
This follows a nasty campaign by BDSHoles to have OxFam dump ScarJo, which included dissemination of this info graphic.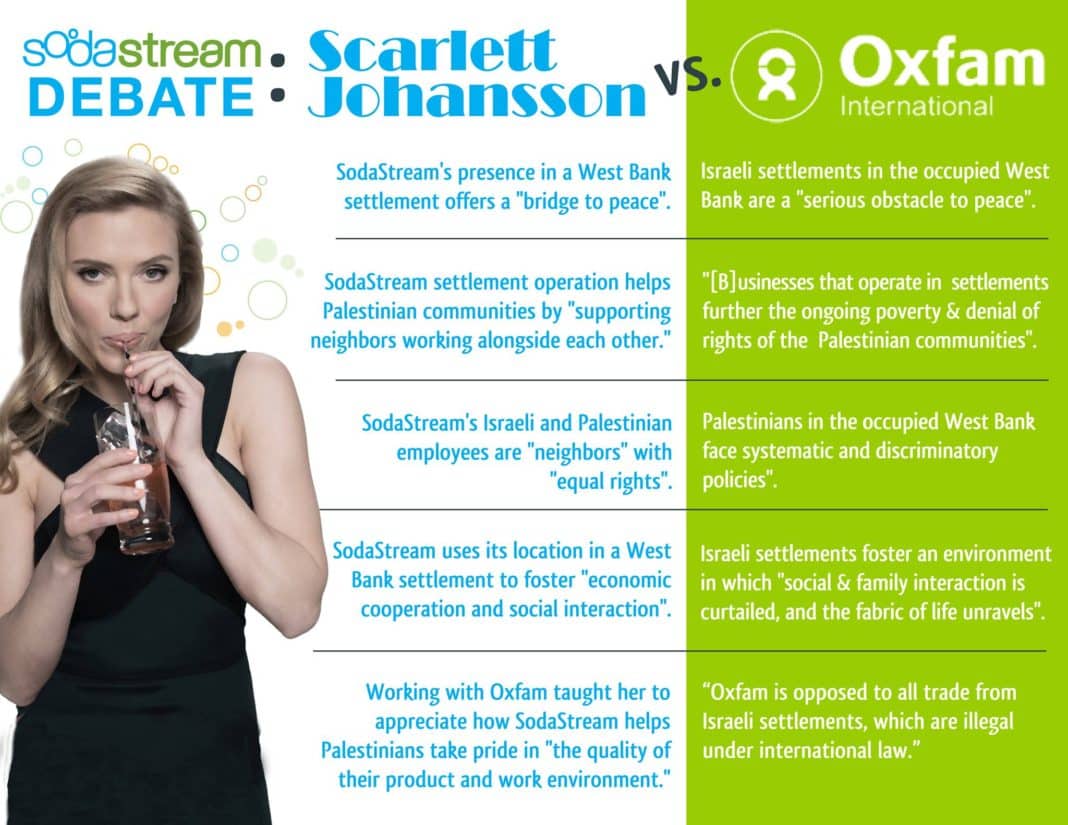 With some minor modification, it turns out to be a very useful info graphic indeed.
Thanks to Brian of London for noticing this.
Update: In other SodaStream controversy news, the highly-critical-of-Israel Jewish Daily Forward has written a piece about the company which reinforces how they care for their palestinian workers, and how the workers, in turn, really appreciate working there.
The decision to locate SodaStream's now contentious plant in this industrial park within the boundaries of the West Bank settlement Ma'ale Adumim, about 10 minutes outside of Jerusalem, did in fact predate Birnbaum's arrival. It was a choice made by company founder Peter Weissburgh, back in the 1990's, long before SodaStream was taken over by the Fortismo Capital Fund, it current owners, who appointed Birnbaum to head the firm in 2007.

But though he wouldn't have opened the factory at its current site, Birnbaum said that its presence here is now a reality, and he won't bow to political pressure to close it — even though the company is about to open a huge new plant in the Negev, within Israel's internationally-recognized boundaries, which will replicate all functions of the West Bank plant, and dwarf it.
The reason for staying is loyalty to approximately 500 Palestinians who are among the plant's 1,300 employees, Birnbaum claimed. While other employees could relocate on the other side of the Green Line if the plant moved, the West Bank Palestinian workers could not, and would suffer financially, he argued.
"We will not throw our employees under the bus to promote anyone's political agenda," he said, adding that he "just can't see how it would help the cause of the Palestinians if we fired them."
—-

At the plant's cafeteria, awareness of the current international controversy over Scarlett Johannson's new role at the company was clearly widespread among employees. During the Forward's visit, Birnbaum took to the cafeteria floor to give some 250 Palestinian workers a kind of pep talk about the issue, urging them to ignore the political attacks. "We are making history for the Palestinian people and the Israeli people," he told them in Hebrew, followed by a translator who rendered his comments into Arabic. Birnbaum reassured the workers about their jobs and said he wanted to bring "more and more hands" into the factory as SodaStream grows.

The Palestinians applauded these comments. But then Birnbaum added with a flourish: "Scarlett Johannson would be proud of you!" And at the sound of Johannson's name — even before the translation — applause among the assembly of mostly male, 30-something Palestinian workers burst out again, palpably louder.

During discussions between a Forward reporter and about a half-dozen of these Palestinian employees, conducted out of earshot of Israeli managers, none complained of labor abuses, or of receiving pay below the Israeli minimum wage. Asked about the calls by anti-occupation activists to boycott SodaStream, one spoke about the dearth of jobs in the Palestinian Authority economy.
This confirms what we saw in the video I posted last week, as well as the fact the Electronic Intifada hit piece on the company was dishonest. Elder covers this point here.