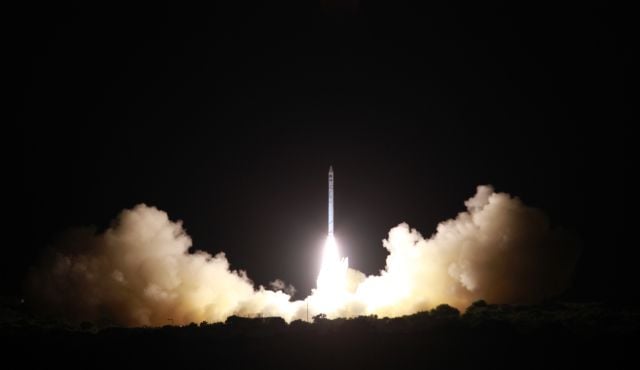 Or I could have called this Zionist Pigs in Space!
I wanted to mention Israel's latest space achievement. For the first time in 4 years we've put an artificial satellite in orbit.
Three important points:
The vast majority of artificial satellites are launched to the east (think Kennedy Space Centre launching out over the Atlantic). This is because the Earth spins that way and it's like getting a 1,700 km/h running start. Israel launches the other way which is a 3,500 km/h disadvantage but means we don't send important stuff flying up over Arab countries.
If you can put a satellite in orbit you can pretty much send a rocket to "crash" anywhere on the earth. And that rocket can contain… you know, stuff.
There were no Pigs on board.
Now the details:
The Israel Defense Forces successfully launched Horizon 10 – a radar-based observation satellite with advanced photography capabilities during daylight, at night and under all weather conditions, the IDF blog announced.

The launch, which took place on Wednesday evening, was carried out jointly by the Israeli Aircraft Industries and the Defense Ministry's Space Administration, which is a part of the Administration for the Development of Weapons and Technological Infrastructure.

"The Ofek [Horizon] 10 observation satellite was launched into orbit by the Shavit multi-stage satellite launcher," the Defense Ministry and IAI said in a joint press release. "The satellite Ofek 10 as well as the Shavit satellite launcher were developed and produced by Israel's Ministry of Defense, through its R&D Department (MAFAAT). The primary contractor is Israel Aerospace Industries (IAI Ltd). In addition, a number of other Israeli companies cooperated in its development and production, including Rafael, Spectralink from Elbit Systems, Rokar and Israel Military Industries. Branches of the Israel Defense Forces were also involved including the Intelligence Branch and the Air Force."

"In the early hours of Thursday, April 10, 2014, according to plan, the observation satellite entered its orbit around the Earth, and underwent a series of tests to confirm its serviceability and accurate performance," the press statement explains. "The satellite then began transmitting data and visual material to Earth. Engineers from MAFAT – Ministry of Defense with engineers from Israel Aerospace Industries are continuing to perform a series of planned tests until the satellite begins operational service.

"Ofek 10 is an observation remote-sensing satellite that employs synthetic aperture radar (SAR) technology with advanced high-resolution imagery, capable of operating day or night and in all weather conditions. Ofek 10 was developed on previous experience accrued during the development and production of the Ofek series of advanced satellites, the first of which was launched in 1988."
Please help ensure Israellycool can keep going,
by donating one time or monthly