Antisemitism Controversy: Nike Dropped The Ball
By now, I am sure most of you have heard of the new Nike ad controversy.
In short: Many, including Knesset member Shimon Ohayon, believe the logos on the uniforms of the "bad guys" in the ad, which resemble Stars of David, are "Jewish symbols..to transmit anti-Semitic messages." 
https://www.youtube.com/watch?v=Iy1rumvo9xc
For their part, Nike had this to say:
"The logo shown on 'The Clones' player uniforms and on the advertising boards in 'The Last Game' film is a logo of a football. Any resemblance to any other symbol or image within the campaign is entirely coincidental and unintentional."
Even the normally sensitive ADL has taken the "nothing to see here, move along" approach.
Here at Israellycool headquarters, we had many discussions over this. At least one contributor believed the antisemitic imagery was undeniable and deliberate. The majority of us believed the symbol was a soccer ball, and any resemblance to a Star of David was entirely coincidental, and "we shouldn't be finding antisemites under every bed."
After much deliberation, we decided not to post about it because most of us were of the second school of thought.
But now, after reviewing the ad again, I believe Nike were reckless. Not deliberately antisemitic, but should have anticipated the connotations of the ad, given the resemblance to the Star of David and existence of antisemitic conspiracy theories accusing Jews of plotting world domination.
I agree the symbols on the uniforms are soccer balls that bear a resemblance to Stars of David.
But at 1:16, this appears on a large screen behind the players.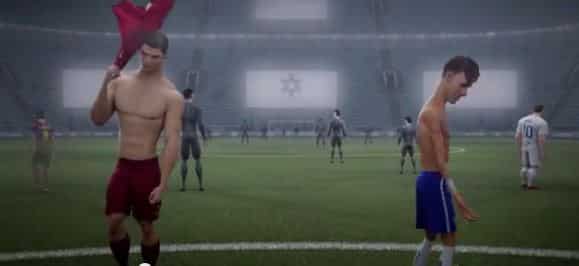 Unlike the uniform logos, that looks way more like a Star of David than a soccer ball.
Now don't get me wrong. I do not believe for a second Nike did this deliberately. I guess theoretically it is possible a subversive employee did do it deliberately (after all, there is a precedent for this over at Disney), but at the very least, whoever reviewed the ad and gave it the go ahead seems to have dropped the ball (pun intended). The implication is unmistakable, and at the very least, he or she should have anticipated the similarity to a Star of David and the inference one could make.