Meet The Fockers: "Civilian" Terrorists Killed In Gaza
Meet 13 year-old Ibrahim Jamal Kamal Nasser, listed by Al Jizz (#309) as one of those killed in Operation Protective Edge.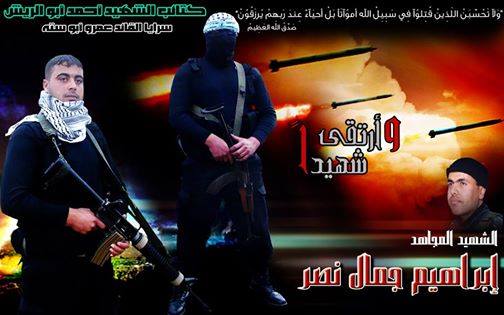 He looks closer to 30 than 13. But even assuming he matured really quickly, can we all agree he does not look like a civilian?
Likewise 15-year-old Wasim Rida Salehiya (#310 on the list), immortalized in this martyrs poster as a Fatah/Abu al-Rish Battalions operative (he's the one in the purple shirt on the top right)
Again, not quite the innocent young boy.
If you recall our casualties analysis, 28% of those on the list were 18-28 year old males, the demographic category most likely to represent combatants. A further 5% were 11-17 year old males. We see that this category also included combatants, making the results even more suggestive of IDF efforts to target terrorists (but we knew that already).
These are some of the findings of the latest Meir Amit Intelligence and Terrorism Information Center report, which has so far ascertained 450 dead, consisting of 208 terrorists (46%) and 240 non-combatants (54%) .
(Hat tip: EoZ)