In Gaza, there were many tragic victims of the latest operation. For the children, tragedy really struck home when Muhammad Al-Ar'ir was killed.
Al-Ar'ir was known by the young impressionable children of Gaza for portraying the beloved "Nahoul", a fun-loving bumble bee on Al Aqsa TV's "Tomorrow's Pioneers". Nahoul teaches the Strip's youth of important Hamas values such as,
1) Neighborly relations:
2) Making new friends
and
3) …. ?????
These kids have given their fallen hero a heartwarming tribute, from Al-Aqsa studios where the Zionists have "destroyed every stone and every tree". (Probably for good reason [article 7])
So long, Nahoul. We hardly knew ye.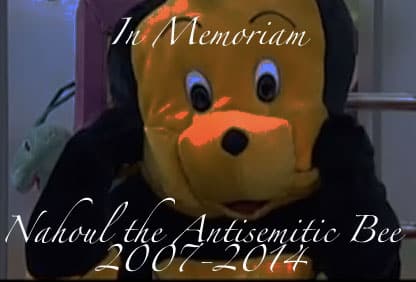 Aussie Dave adds: Mohammed Alareer/Muhammad Al-Ar'ir was previously described as playing Karkour the chicken, and not Nahoul the bee. So it looks like those in charge of Tomorrow's Pioneers also "hardly knew ye"!