Regular As Clockwork, Here Comes A New Olive Tree Libel
A couple of weeks ago I posted about what it takes to cut off a small piece of an immature olive tree. I posted a video I filmed in the park of two landsmen carefully pruning a baby olive tree to keep it healthy. I wrote the post purely because, every year, the Palestinians and their supporters come up with a story about how settlers destroyed a ton of "Palestinian" olive trees.
It didn't take long. Here's a screen shot of the article and it's picture and we see the first problem.
So this brand new story is illustrated with a woman standing in front of an olive tree that hasn't been cut down, but looks to have been pruned (a necessary step in ensuring an ongoing olive harvest).
And more than that it's FIVE YEARS OLD!!!!! They haven't got anything more recent than this staged picture?
In fact it comes from an AP photoshoot and we even have a few old samples knocking around on Israellycool from the same staged event:
The text begins:
Israeli settlers chopped down more than 70 olive trees between the towns of Yasuf and Jammain in the northern West Bank districts of Salfit and Nablus on Monday.

Palestinian farmers said the trees, which lay close to the illegal Israeli settlements of Ariel and Taffuh, had been cut down using chainsaws.
Interesting side note: "Taffuh" here means the hebrew name "Tapuach" with a "P"-sound. That's the hebrew for apple and the name of a village. The Arabs write this (transliterated into English) with an "F"-sound because they don't have a "P"-sound in Arabic. Which is strange for people who call themselves "Palestinians" with a "P".
But back to the Pallywood chainsaw massacre: nobody heard this happen and nobody arrived with a cell phone to photograph or video it? Really. Remember that sound in my video of a chainsaw cutting a small branch? It took a minute. So they did this 70 times on mature trees with chainsaws and nobody noticed at the time. But this is always captured right: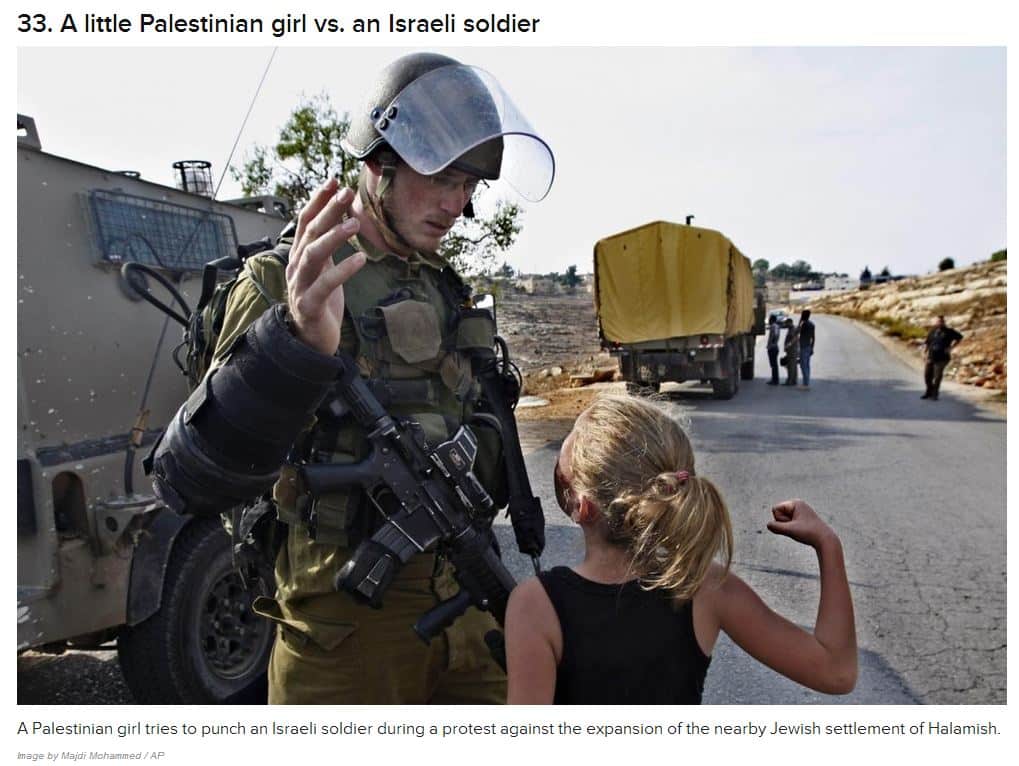 Continues:
A local, Khalid Maali, said that because the land lay close to settler roads near the Zaatara checkpoint it had been easy for the settlers to flee afterwards.

The olive industry supports the livelihoods of roughly 80,000 families in the occupied West Bank, and the Salfit district in particular is known for its fertile soil and large olive trees.

Settlers attack olive trees in a bid to oust Palestinian farmers from their land, and a loss of a year's crops can cause destitution for farming families.

According to ARIJ, in addition to confiscating Palestinian land in Yasuf in northern Salfit, "Israeli settlers have also carried out a series of attacks against Palestinian landowners in an attempt to intimidate them and deter them from returning to their land."

Meanwhile, in Jammain in southern Nablus, "attacks and violence perpetrated by settlers living in the settlements near Jammain town has had a profoundly negative impact on residents and their property.

"Palestinian land owners are unable to access their lands, as they have been fenced off with barbed wire. Settlers have planted trees in these areas to reinforce their control over the area. The settlers have damaged and burned a number of Palestinian owned trees and plants."

Since 1967, approximately 800,000 olive trees have been uprooted in the occupied West Bank, according to a joint report by the Palestinian Authority and the Applied Research Institute Jerusalem.
And the world laps up this stuff.