Anti-Zionist-Not-Antisemite Of The Day: Matthew Kees Of MLK Studios
Meet Matthew Kees.
He describes himself as a "renowned professional photographer, art teacher and sculptor" who runs MLK Studios in Hollywood…"and now teaches hundreds of students around the globe in his online course as well as his private lessons in Hollywood."
He would describe himself as an "anti-Zionist". His Twitter feed is full of anti-Israel posts, which goes as far as to show support for terrorists who murder Israelis. Like this one from yesterday showing those who murdered 19-year-old Hadar Cohen in Jerusalem.
Or this one glorifying terrorism.
But as is almost always the case, his hatred of Israel is born out of Jew hatred. Even though he would deny it, claiming charges of "antisemitism" are just used to silence Israel critics.
..or that antisemitism is only something caused by Israel's actions
..or that he has nothing against all Jews, just "Zionists"

..or that he is only called "antisemitic" because he has empathy for palestinians.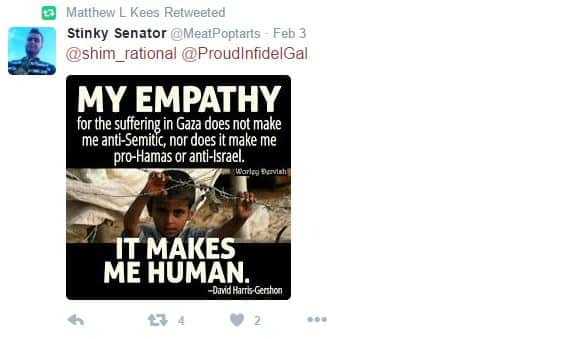 But his posts show a real pathological hatred of Jews.
Here is just a sample of posts he either publishes himself, or retweets as an endorsement.
https://twitter.com/mlkstudios/status/694835373671784448
https://twitter.com/MLKstudios/status/694936789128052737
https://twitter.com/MLKstudios/status/694915856451526657
https://twitter.com/mlkstudios/status/694838625549156352
One need not wonder the extent of his hatred of Jews if he is willing to publish this antisemitic drivel day in and out, while apparently working in Hollywood.
Thanks to NakBaNaNas for bringing this vile person to my attention.
Update: Hmm.. (click each image to enlarge)
https://twitter.com/mlkstudios/status/289555393636614144
Must be the Jews fault.
Update: According to blogger Thomas Victor, Kees may be lying about it (hat tip: cba)
There's no arrest record for Matthew L. Kees in California. On Twitter he told me that his cellmates were murderers. After I pointed out his lack of an arrest record and the fact that date-rape suspects aren't put in maximum security with violent felons, Kees then changed his story and said that he spent only one night in jail.

His story is bogus. Jew-haters are fabulists. Every single one of them.