Man Who Complained He's Called "Muslim Pig" Calls Jews "Pigs"
On the ABC Australia's July 18 Q&A program, Muslim audience member Khaled Elomar asked Australian anti-immigration politician Pauline Hanson a question, prompting the following exchange.
KHALED ELOMAR: Senator Hanson, my 11-year-old son, who is watching this program right now, recently asked me, "What is Islamophobia?" Rather than explaining it to him with my own words, he and I sat down side by side and watched a few of your past and recent videos. Then I asked him, "What do you think Islamophobia is?" His response was, "Someone that hates us." I said, "Islamophobia is one or a combination of three things: Hate, fear or ignorance." I promised him that I will ask you this question, so he can hear the answer from yourself. So with all due respect, Ms Hanson, what is the basis of your Islamophobic feelings: hate, fear or ignorance?

PAULINE HANSON: None of the above of what you've just said, alright? What I'm concerned about – and your son may be watching but also other children may be watching this as well, who want to live in peace and harmony in this country without fear. It's about us getting on together as a nation and working together with that fear amongst us. Why have we got so much fear on our streets? Why did the Lindt cafe happen? Why did Curtis Cheng – why is he murdered? Why is other things happening? Why are there terrorist attack around the world? You know, we need to find the answers to this and why the radicalisation, why have we just recently had another three men wanting to leave this country or five it was, to actually go and fight for ISIL?

KHALED ELOMAR: Why? Simply because people like yourself, who have extremely dangerous and disturbing rhetoric, it's a fuel to hatred, bigotry and ignorance. You should listen to what you say.

PAULINE HANSON: No, I can say…

KHALED ELOMAR: Because your policies are simply a contradiction to your own One Nation party. You're not creating a One Nation party.

PAULINE HANSON: So it's all right for your…

KHALED ELOMAR: You are creating a dysfunctional country by isolating a religion, 20 years ago isolating a race and you keep on going down this track, I will fear for my wife's life. I will fear for my kid's life.

AUDIENCE MEMBER: Who is an Australian-born.

KHALED ELOMAR: I work in Cronulla. I have worked there for eight years. I absolutely love the place. Only recently, after your rhetoric has came on board the media, almost every day I get called a Muslim pig because of you.

PAULINE HANSON: No.

KHALED ELOMAR: And I really do thank you for that because it just shows how much of a better person I am that I can choose to ignore these guys.

KHALED ELOMAR: And remain the person that I am.
I feel for Mr Elomar, I really do. Or at least I would – if he wasn't a vile hater and deceitful hypocrite.
A man who blamed Pauline Hanson for being called a 'Muslim pig' by the Australian public has gone on expletive-ridden Facebook rants about Zionism and capitalism and told the One Nation leader to self-harm.

—-

But it has been revealed Mr Elomar has gone on angry rants on social media – after accusing Ms Hanson of using 'extremely dangerous and disturbing rhetoric'.

'To the Zionists and Capitalists of the world, go f*** yourselves. We want peace mother f******,' he wrote.

Mr Elomar has also repeatedly belittled Ms Hanson on his Facebook page telling the One Nation leader to 'uppercut herself'.
Naturally, he has removed the offending posts from his FB page, but not before they were screenshotted.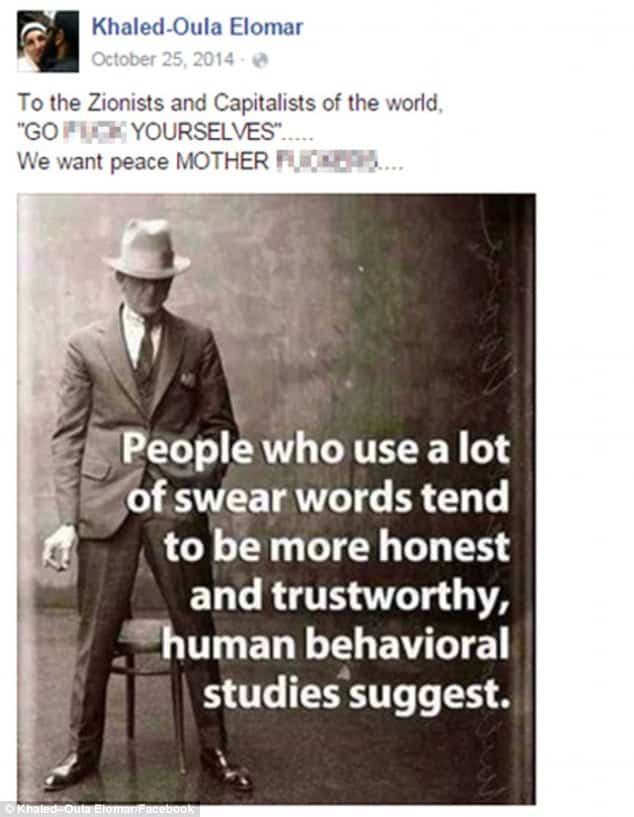 Yeah, he wants peace. Just like he stands against "Racism, bigotry, hate and ignorance"
https://www.facebook.com/khaledoula.elomar/posts/599811556859338
He might not be a "lone wolf" but he sure as hell is a wolf in sheep's clothing.