A few days ago, Deebo posted about the foundation stone being laid for Gaza's first "child-friendly school." He remarked that "this is very good news for the people of Gaza that their schools are finally taking that big step forward into becoming child-friendly."
But what exactly is the meaning of "child-friendly" in this case?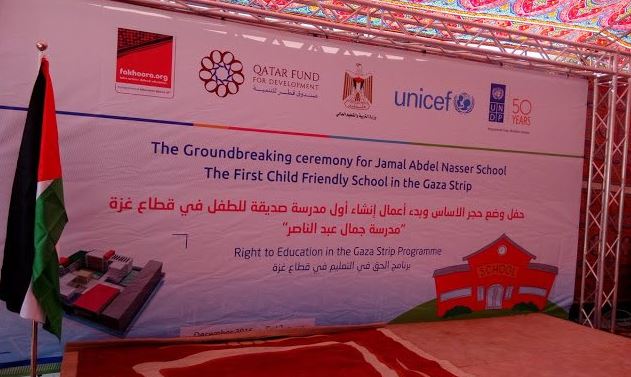 This is a photo from the recent groundbreaking ceremony. We see that UNICEF is involved, so I thought I would check out their site to see if they define it.
They do. The definition includes the following:
UNICEF has developed a framework for rights-based, child-friendly educational systems and schools that are characterized as "inclusive, healthy and protective for all children, effective with children, and involved with families and communities – and children" (Shaeffer, 1999). Within this framework:

The school is a significant personal and social environment in the lives of its students. A child-friendly shool ensures every child an environment that is physically safe, emotionally secure and psychologically enabling.

—

Such rights-based — or child-friendly — schools not only must help children realize their right to a basic education of good quality. They are also needed to do many other things — help children learn what they need to learn to face the challenges of the new century; enhance their health and well-being; guarantee them safe and protective spaces for learning, free from violence and abuse; raise teacher morale and motivation; and mobilize community support for education.

A rights-based, child-friendly school has two basic characteristics:

It is a child-seeking school — actively identifying excluded children to get them enrolled in school and included in learning, treating children as subjects with rights and State as duty-bearers with obligations to fulfill these rights, and demonstrating, promoting, and helping to monitor the rights and well-being of all children in the community.
It is a child-centred school — acting in the best interests of the child, leading to the realisation of the childés full potential, and concerned both about the "whole" child (including her health, nutritional status, and well-being) and about what happens to children — in their families and communities – before they enter school and after they leave it.
UNICEF have also put out a pamphlet entitled Child-Friendly Schooling for Peacebuilding.
So we would expect this school to be promoting peace, and certainly not promoting violence, hatred and incitement. It is against the definition of child-friendly. Besides, one would hope UNICEF and UNDP would not be behind any initiative doing anything of the sort.
I say all of this because Ofir Gendelman, the Israeli Prime Minister's spokesperson for the Arab Media, tweeted this out yesterday:
A new school is cause for celebration. Here's how they celebrate a new school in Gaza, w/ the kids carrying guns. Where's the int'l outcry? pic.twitter.com/IV5lB8xmkC

— Ofir Gendelman (@ofirgendelman) December 9, 2016
And while he has unfortunately not been entirely accurate – those photos of kids with guns are not from the groundbreaking ceremony for this new school but are from the school's previous incarnation – there is real cause for concern.
Inside the courtyard of the Gamal Abdel Nasser School in the Shajaiyah neighborhood east of Gaza City, students carrying Kalashnikov assault rifles and dressed in military fatigues take their positions for a demonstration — an attack on an Israeli military site represented by a makeshift watchtower flying the Israeli flag. A YouTube video shows a segment of the demonstration in which one of the boys hits the tower inside the school with an artillery shell to cheers of encouragement and cries of "Allahu akbar."

The demonstration is part of a military training program for students that the Hamas Ministry of Education has been running since the beginning of the school year in Gaza. The program is a project to train 5,000 students, aged 15–17 from 65 schools, under the supervision of national security officers from the Ministry of Interior and the Izz al-Din al-Qassam Brigades, the military wing of Hamas.
https://youtu.be/YmBAZpbKhmM
In other words, Gaza's new "child-friendly school" is version 2.0 of a school in which young children learned from Hamas hatred, incitement and how to perpetrate violence.
Will things be different this time? They better be, given the UN is behind it. But given the UN's indifference to the violence of palestinians until now, plus the fact the school is still named after a warmonger who tried to eradicate Israel, I'm not too hopeful.
But I will be following developments and nailing the UN for this if my worst fears eventuate.
Please help ensure Israellycool can keep going,
by donating one time or monthly