Report About Arabs Angered By Israeli Coloring Book Not Black And White
Albawaba reports on the latest outrage perpetrated by Israel against some of its Arab residents – a coloring book distributed to their children.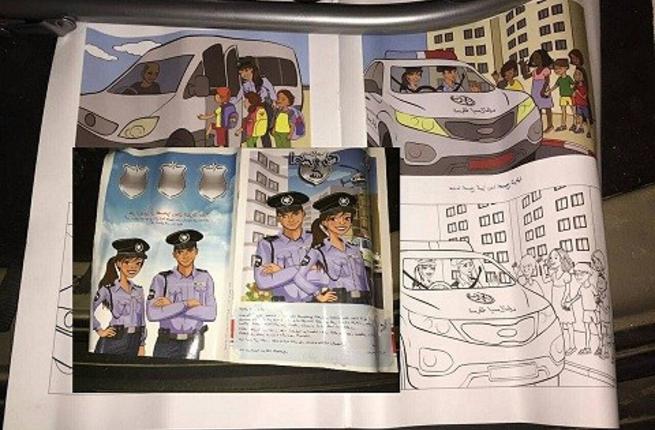 And what was so outrageous about this coloring book?
It was inclusive!
A kids' coloring book handed out in primary schools across the predominantly Arab town of Umm al-Fahm, within the 1948 borders of Israel, has provoked anger among Palestinians.

The publication, distributed by the Israeli police, has offended over its choice of names for its featured police officer characters. By calling the figures "Amir" and "Reem", Arab names, the Israeli authorities have added fuel to the fire of the prickly issue of conscription.

The Palestinian media has framed the distribution of the books as an attempt to encourage Arab-Israelis to enrol in the police and army. Currently excluded from the military service which is compulsory for Israeli Jews, Arab citizens of Israel are vulnerable to conscription at any time under an Israeli law from 1949.

—

Responding to the distribution of the books, a committee representing parents of local school children said that they "categorically reject the entry of the police to our schools," al-Quds reported.

They called upon locals to "be vigilant of such projects" which seek to "distort the minds" of young pupils."

Local politicians and international activists have also criticized the controversial move, which pokes at tensions rarely far from the surface among Palestinians within Israel.
But I suspect there is more to this story than albawaba is letting on.
If you ask the majority of residents whether they want to be consider Israeli-Arabs or palestinians (the term used by Albawaba), you'd find the majority would identify as Israeli. And I am guessing they would not have a problem with more of their people joining the police, or the coloring book for that matter.
So why the opposition? I believe it is because Umm al-Fahm is the city of Sheikh Raed Salah, leader of the Northern Branch of the Islamic Movement in Israel, a recently outlawed fundamentalist organization. It seems to have taken root in the city.
I smell some Islamic Movement instigation here.