Vile Antisemite Thomas Lopez-Pierre Running For NYC Council
Meet Thomas Lopez-Pierre, who is running as a candidate for NY City Council in the 7th Council District.
His platform? Hear for yourself.
https://youtu.be/WY8mn_9JCy4
This is how TLP describes himself:
Thomas Lopez-Pierre: is a 48 year old Christian man (Jesus Christ is his Lord and Savior) of Dominican, Puerto Rican and Haitian descent (born addicted to drugs, raised in foster care and group homes).

Thomas Lopez-Pierre: a sinner, saved by God's grace is a man of the people, fighting for economic and social justice by protecting residential tenants from being pushed out of their apartments by greedy landlords.
I'd suggest the drugs messed with his mind.
Apparently, TLP has been at this antisemitism/racism game for a while now.
But his campaign was also rife with controversies, including race-baiting, anti-Semitic email blasts that caught the attention of many. According to a Daily News article, Lopez-Pierre sent a series of emails in the fall of 2012 calling Levine a "White/ Jewish candidate" and accusing him of trying "to sneak into office like a thief in the night."

The candidate upped his rhetoric in a January 2013 email addressed to Brian Benjamin, a Democratic fundraiser and black supporter of Levine's 2013 run. According to the email, which Lopez-Pierre made available to the media and was published in full by Politico at the time, Lopez-Pierre called Benjamin — now seeking an open State Senate seat in Harlem and the Upper West Side — an "uncle Tom [n-word] bitch," for supporting Levine.
He's also apparently quite the wordsmith.
In a homophobic postscript to the email, he added, "[Harlem residents] know that you are a weak, little short man who sucks White/ Jewish cock."
Incidentally, he looks a hell of a lot like another Jew-hating nincompoop.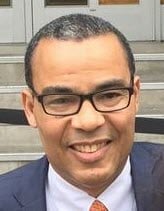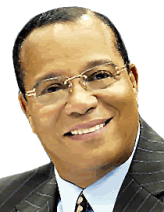 And speaking of greedy, check out how much Twitter real estate he has gobbled up.