Reader Post: Wishful Thinking, No Gain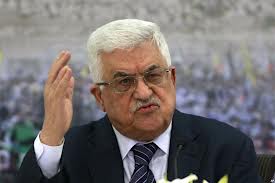 Donald Trump is in the White House, and the PLO's Mahmoud Abbas is making conciliatory statements about his readiness to meet with Prime Minister Netanyahu in Washington. Actually, Abbas is scheduled to begin by meeting with Trump on May 3. And so, once again we come to the season for making predictions about the possibility – unlikely though it might be – of reaching a peace agreement.
Such predictions, however, fly in the face of a number of exceedingly pertinent facts, which, taken in total, reduce to near impossibility any prospect for genuine peace.
Abbas's proclivity for saying (in English) what he believes the world wants to hear, with no regard for veracity, is exceedingly well-known. He says what he thinks will enhance his position and further his goals.
But now a new factor has been introduced in order to make the argument that this time perhaps he means what he says: He is getting older. As the time for him to remain at the helm of the Palestinian Authority dwindles down, he wields less power. Thus, goes the rationale, he may see this as his last chance to effect a positive change in the situation.
I would vigorously argue that just the opposite is the case: Abbas's power within the Palestinian Authority has been severely compromised for a long time. He is broadly seen as both corrupt and disloyal to his own people; cooperation (such as it may be) with Israeli security forces is viewed as a sell-out. Thus is he vastly unpopular, if not hated.
For some time now, there have been areas ostensibly within PA jurisdiction – areas actually controlled by violence-prone militias – that he avoids entering because he literally fears for his life. It is some three years since reports surfaced, exposing the fact that Abbas remains in his compound in Ramallah with a beefed-up security detail when "at home" and actually spends a good deal of his time abroad. He sent his family to Jordan, on the advice of his security chief, because of the risks they faced.
Now, as he grows weaker, Abbas's fears for his life grow correspondingly greater. There is no moderate peace camp in the PA; the core of Abbas's Fatah movement is itself militant. Violence is routinely justified as legitimate "resistance," and we see repeated demands for it. In 2016, when a Fatah Congress convened to set a direction for the coming years, a policy was established to "strengthen popular resistance," in order to increase "the cost of occupation."
While, a mere month ago, Fatah Central Committee member Abbas Zaki, in an article in the Palestinian daily Al-Quds (as reported by MEMRI), said that tens of thousands of Fatah members had to be recruited for resistance, because "the rifle comes before the olive branch."
The likelihood that Mahmoud Abbas, long-time protégé of Yasser Arafat, really would like to end his political life by making peace with Israel is very remote indeed. This is the man who has issued vile cries for his people to "protect Al Aksa" from the defiling presence of Jews. ("Every drop of blood spilled in Jerusalem is pure…," he declared.)
But even assuming that Abbas wanted to achieve peace, he would have neither the clout nor the influence to sell a deal to his people. In this sense, what he might like to do in his waning days as a "leader" is moot: Abbas cannot make it happen.
What is more, Abbas is not a fool, at least where his instinct for self-preservation is concerned. Were he to sign on to a deal, his life would be worthless. And he knows it.
So great is his fear for his safety, even now, that he recognizes he must flee the area once he steps down from his current position: that is, once he no longer has the protection of the PA security forces. My best information is that he is trying to engineer an arrangement that would ultimately allow him to retire in Qatar, a strong supporter of Hamas.
In this regard, keep your eye on Jabril Rajoub, Secretary of Fatah Central Committee, who has ties to Hamas in Gaza via his involvement in Palestinian sports associations. Qatar has been promoting Rajoub as successor to Abbas, and so it is hardly surprising that Abbas has been signaling that he is favorably disposed to Rajoub. It seems not to trouble him unduly that, with Rajoub in place, Hamas would have a foot in the door of the Palestinian Authority.
That this is how Abbas apparently chooses to play it in the last period of his political career tells us a great deal about his genuine inclinations. Those who have speculated on the possibility that he might be headed towards a peace deal would be advised to revisit their thinking.
Arlene Kushner, author, journalist and blogger, is co-chair of the Legal Grounds Campaign.