First Place Again! Israel Recipient of Most ERC Starting Grants Per Capita
A few days ago, the European Research Council (ERC) announced the awarding of its Starting Grants to 406 early-career researchers throughout Europe.
The new grantees will work on a wide range of topics; from health research on chronic infections or asthma, to disaster management, network security, and climate change. The funded research covers all disciplines: physical sciences and engineering, life sciences, and social science and humanities.
The ERC also provided statistics for these grants, including grantees by country of host institution and domain. This includes Israel, which has 28 grantees, the fifth highest number out of the 23 countries represented.
But when you crunch the per capita numbers, Israel is in first place.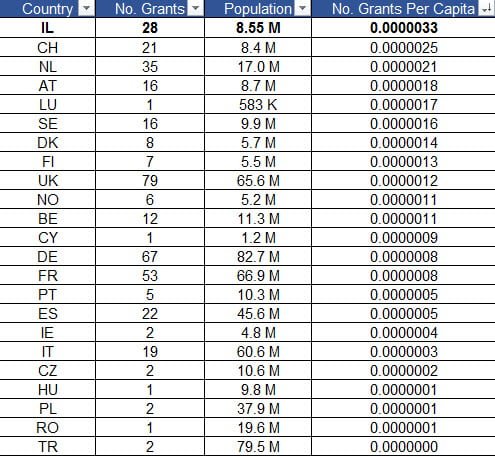 This is hardly surprising, but it never hurts to remind everyone how Israel continues to thrive and contribute, despite having to spend so much money, time and effort defending our country against those trying to destroy us.
Hat tip: Dina Pomeranz via Rabbi Josh Yuter