Linda Sarsour's Initial Reactions To Manhattan Terror Attack
As you are all already likely aware, yesterday an Islamic terrorist killed eight people and injured almost a dozen more after driving down a busy bicycle path near the World Trade Center in Manhattan. My prayers are with the victims, their families and all affected by this.
Faux feminist Linda Sarsour – fresh from her basking in the glory of being named one of Glamour Magazine's Women of the Year – got very active on Twitter following the attack. And her reactions are telling.
Here initial response – via her own tweet and her retweeting of other people – was to try cast doubt that it was a case of Islamic terrorism, as well as insinuate Islamophobia was at play in such suggestions.
Only then did she think of the victims.
Sending love and prayers to victims & families in Manhattan shooting. Devastating. People shouldn't have to fear walking in their city.

— Linda Sarsour (@lsarsour) October 31, 2017
She then resumed with defending Islam.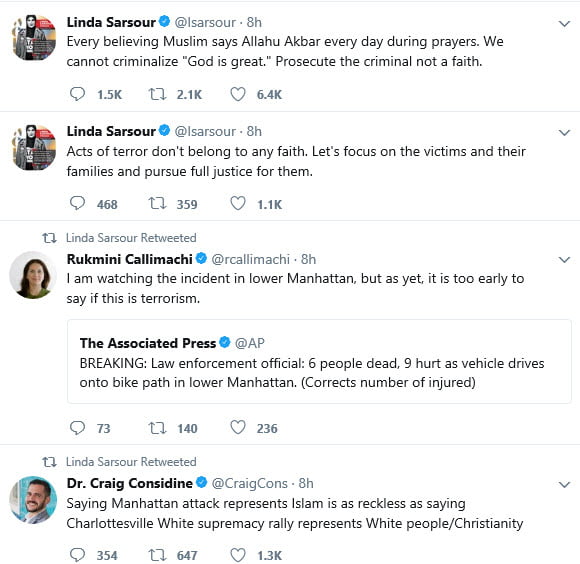 This is exactly what we saw from her in 2012 when she addressed an all-Muslim audience about 9/11 at CAIR Arizona. As I noted in this post:
Note how she begins with "I know many of you may be tired of hearing about 9/11," which seems to be an acknowledgment that many of her audience not only are not moved by what happened on that fateful day, but are sick of hearing about it. She then continues to speak about 9/11 from her point of view as a Muslim, with not even a word of sympathy for the real victims of the terror attacks that day, nor any reflections from her as an American citizen. For her, that day seems only about the anxiety and apprehension of Muslims (including herself), and how it spurred her to fight for their rights. Yet even when speaking as a Muslim, there is no acknowledgement of the role of radical Islam.
In other words, Sarsour's reaction here is entirely consistent with what we have seen from her until now.
And it is anything but "glamourous."