Ever since he got burned by the parody Mossad account, DouchebloggerTM Richard Silverstein has had a soft-on for them, and has tried to find get revenge against them for making him look as stupid as he actually is.
Over a month after the parody Mossad account made this (valid) point
Hello @lorde. You once said you want to be Leonard Cohen. Here's a picture that shows you why you won't be. https://t.co/HqdaOE9eJP pic.twitter.com/Av84uIaI67

— The Mossad You Need (@TheMossadIL) December 24, 2017
(yes, a month later. He clearly has issues)
self-proclaimed "journalist" Silverstein responded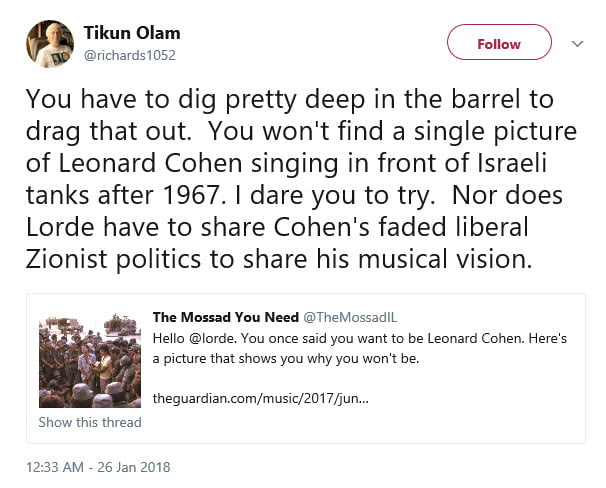 Dare challenge accepted. And actually, it took me about 2 seconds.
That photo of Leonard Cohen with the IDF is from the 1973 Yom Kippur War.
Now kindly delete your account, Dicky. It is way past time.
Please help ensure Israellycool can keep going,
by donating one time or monthly