Linda Sarsour Celebrates Arrest Anniversary With Another Arrest
So I somehow missed this story, but a couple of days ago, faux feminist/human rights campaigner (the faux applies to both) Linda Sarsour was arrested, along with a bunch of CAIR activists, at Speaker of the House Paul Ryan's office, while demanding Ryan meet with her and others protesting current inaction on the Deferred Action for Childhood Arrivals Program (DACA) program.
https://twitter.com/rejialex7/status/971020793902698497
This is not Sarsour's first time arrested – in fact, her last time was almost a year ago, to the day.
Clearly, Sarsour has since been released, since she has been tweeting about it
as well as retweeting the Women's March statement (9 days) following the Tamika Mallory-Louis Farrakhan controversy: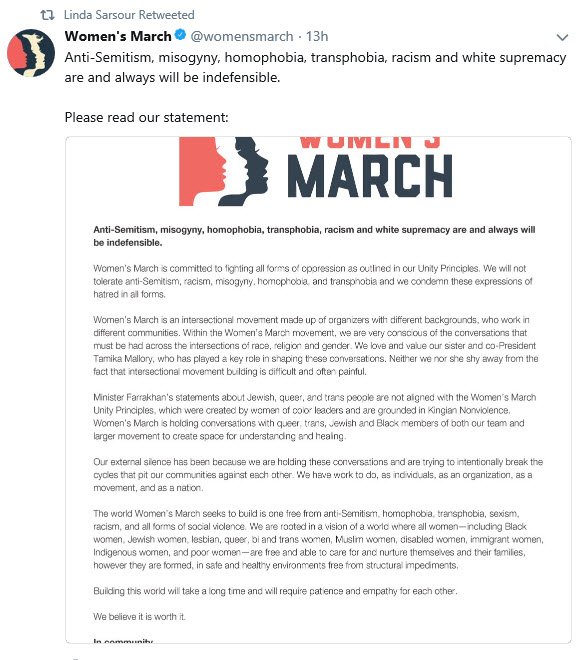 Anti-Semitism, misogyny, homophobia, transphobia, racism and white supremacy are and always will be indefensible.

Women's March is committed to fighting all forms of oppression as outlined in our Unity Principles. We will not tolerate anti-Semitism, racism, misogyny, homophobia, and transphobia and we condemn these expressions of hatred in all forms.

Women's March is an intersectional movementmade up of organizers with different backgrounds, who work in different communities. Within the Women's March movement, we are very conscious of the conversations that must be had across the intersections of race, religion and gender. We love and value our sister and co-President Tamika Mallory, who has played a key role in shaping these conversations. Neither we nor she shy away from the fact that intersectional movement building is difficult and often painful.

Minister Farrakhan's statements about Jewish, queer, and trans people are not aligned with the Women's March Unity Principles, which were created by women of color leaders and are grounded in Kingian Nonviolence. Women's March is holding conversations with queer, trans, Jewish and Black members of both our team and larger movement to create space for understanding and healing.

Our external silence has been because we are holding these conversations and are trying to intentionally break the cycles that pit our communities against each other. We have work to do, as individuals, as an organization, as a movement, and as a nation.

The world Women's March seeks to build is one free from anti-Semitism, homophobia, transphobia, sexism, racism, and all forms of social violence. We are rooted in a vision of a world where all women—including Black women, Jewish women, lesbian, queer, bi and trans women, Muslim women, poor women, immigrant women, Indigenous women, and disabled women—are free and able to care for and nurture themselves and their families, however they are formed, in safe and healthy environments free from structural impediments.

Building this world will take a long time and will require patience and empathy for each other.

We believe it is worth it.

In community,
Women's March
(Note there is absolutely no condemnation of Farrakhan's vile antisemitism, only a wistful regret that his views and those of the Women's March movement on the matter are "not aligned." As for the claim that they were silent because they were having conversations, they must really think we are all idiots.)
As for Sarsour, her release means she will be speaking tonight on Honoring Women Who Fight All Forms of Discrimination Against Women. Maybe while she's at it, she can also speak on Avoiding Arrest and Forcefully Condemning Antisemitism.