Women's March Co-Founders Tamika Mallory & Linda Sarsour Attack Mainstream Jewish Group
Over a month ago, Women's March co-founder Tamika Mallory was roundly criticized for refusing to condemn Louis Farrakhan's antisemitism, especially considering she was at an antisemitic speech he gave before the Nation of Islam (is there any other kind?). The Women's March subsequently defended her with this statement:
"Minister Farrakhan's statements about Jewish, queer, and trans people are not aligned with the Women's March Unity Principles, which were created by women of color leaders and are grounded in Kingian Nonviolence," read the statement issued Monday, more than a week after Mallory first posted about being "super-excited" to hear Farrakhan's message. "Women's March is holding conversations with queer, trans, Jewish and Black members of both our team and larger movement to create space for understanding and healing."
Yesterday, Mallory decided to attack mainstream Jewish group the ADL, accusing them of "attacking black and brown people" and demanding Starbucks end its partnership with the group (with regards to "racial bias training").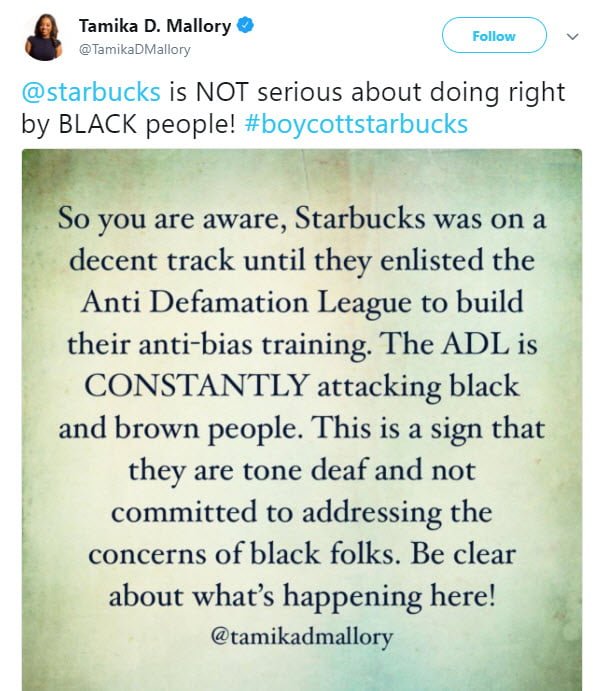 And naturally the ADL are bad because, Israel.
Not surprisingly, many of us felt this was a manifestation of Mallory's antisemitism, that we strongly suspected after Farrakhan-gate. Jerusalem Post journalist Lahav Harkov said it well with this tweet:
If you take an issue that has nothing to do with Jews and Israel – like, a Starbucks discriminating against people of color – and somehow find a way to turn it into "Jews are bad because Israel," you just might be an antisemite. @TamikaDMallory @lsarsour @womensmarch

— Lahav Harkov (@LahavHarkov) April 18, 2018
Of course, Mallory whipped out her "some of my best friends are Jewish" defense.
Naturally, all of these "friends" are also anti-Israel.
And naturally, fellow Women's March Co-Founder and anti-Zionist-not-antisemite Linda Sarsour joined in.
To be clear: the ADL is one of the most respected "intersectional" rights organizations out there, and very active in promoting civil rights for minorities, including the African-American community.
In 1997, the National Center for Black-Jewish Relations of Dillard University, a historically black university in New Orleans, awarded the director of the ADL, Abraham H. Foxman, with the first Annual Martin Luther King, Jr. – Donald R. Mintz Freedom and Justice Award.

In 2004, the ADL became the lead partner in the Peace and Diversity Academy, a new New York City public high school with predominantly black and Hispanic students.

In celebration of Black History Month, the ADL created and distributed lesson plans to middle and high school teachers about Shirley Chisholm (1924–2005), the first black woman elected to the US Congress, and an important civil rights leader.
But Mallory and Sarsour see them as bad, all because they see them as pro-Israel.
And that my friends is antisemitic. You see, you do not get to tell Jews that an integral belief of their religion – Zionism – is wrong and bad.
Mallory and Sarsour have run out of chances to show they are anything but vile antisemites, masquerading as human rights activists.