Israel hater CJ Werleman recently came to my attention when he tweeted about the Palestine football team of 1939. As I pointed out, they were all Jews!
After I pointed this out, he deleted his tweet. And tried to change the subject when I called him out on it.
I deleted it because many (Zionists) misinterpreted the point I was trying to make.

The point being if there was a national football team playing under the name "Palestine" during mandate era, then this makes a mockery of those who erroneously assert "Palestinians = invented." https://t.co/quobLZRVB4

— CJ Werleman (@cjwerleman) May 11, 2018
"Palestinians are an invented people who are set to destroy Israel," says Sheldon Adelson, owner of the largest newspaper in Israel. https://t.co/38LbJi9QWD

— CJ Werleman (@cjwerleman) May 11, 2018
Well, he's done it again, tweeting this today:
This photo, more than any other, captures the horror of Israel's "independence." Zionist militias looting the homes of forcibly displaced Palestinians in Jaffa, while walking past those they have slain.#Nakba70 pic.twitter.com/NPAwHjhuS4

— CJ Werleman (@cjwerleman) May 12, 2018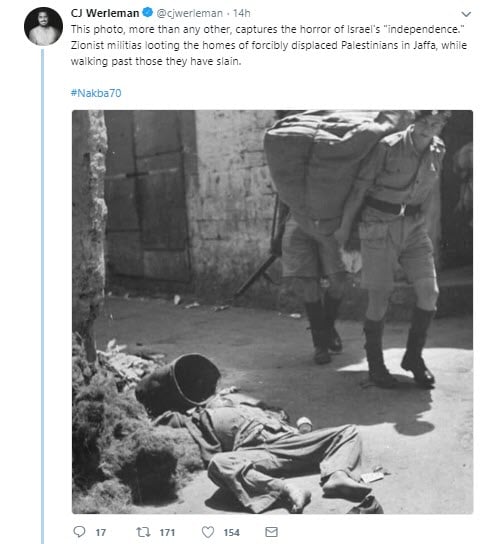 This is, of course, the exact libel I dealt with a few days ago!
We can laugh and pat ourselves on the back after this latest "own goal," but the fact remains people follow this guy, and disseminate his lies.
And he has well over 100 people donating to him on a monthly basis so he can continue to spread his lies against Israel and the Jewish people.
Please help ensure Israellycool can keep going,
by donating one time or monthly