Richard Silverstein's False Flag Operation
I'll let you decide what this says about the Middle East expertise of anti-Israel DouchebloggerTM and self-appointed M-E expert Richard Silverstein:
Here's a close-up:
That's the Israeli flag and Druze flag.
After being told that is not the palestinian flag, the Dickster surmises it may be a gay pride flag. I kid you not.
Well done, Sherlock!
Silverstein is subsequently apprised of the truth.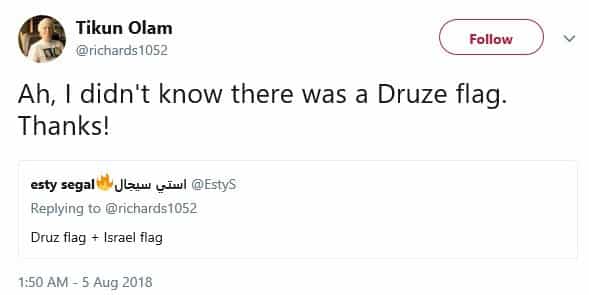 Jump forward a few days, and this is how El Doucherino responds to someone who tweets that "the dill (Silverstein) does not intend to delete the tweet" (his original tweet stating it was the palestinian flag).
I'll let you all decide who the moron here is.
Besides showing how dishonest Silverstein is – he has gone from admitting he did not even know there was a Druze flag to doubling down and making out like he knew what he was doing all along – he is once again completely wrong. The Druze are certainly not palestinian. In fact, the very photo he originally tweeted is demonstrative of this; the Druze have been protesting Israel's nation-state law because they feel it renders them second-class citizens.
"Despite our unlimited loyalty to the state, the state doesn't consider us equals," Israeli Druze spiritual leader Sheikh Muafak Tarif said in a speech at the rally.
Hardly the words of a palestinian!
Anyone with knowledge of Israel knows the Druze are vital members of the IDF. And the Druze of Israel have certainly never called for their own (palestinian) state. Again, not palestinian!
Is it any wonder that the only people who appreciate Silverstein are Iran's Press TV, some members of the far Left, and David Duke?