Terror Org PFLP Masquerading as Human Rights Org: Part Five
Previous parts in the series: 1, 2, 3, 4
Besides their personnel who are either PFLP members or collaborate with PFLP members, ADDAMEER has shown its true, terrorist colors with their support of terrorists, whether from the PFLP or other terror organizations.
For example, earlier this year, they posted their support for Ahmad Attoun: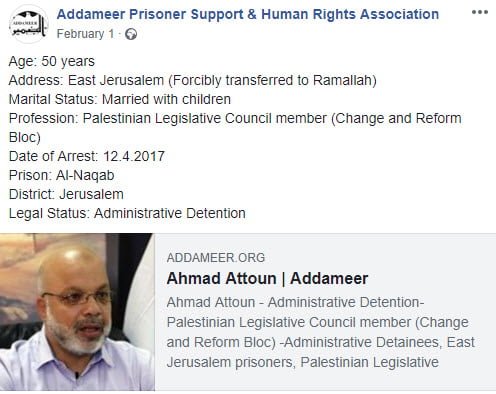 Attoun is a known Hamas-hole.
Similarly, they posted their support for Salah Hamouri, an ADDAMEER field researcher, who was arrested and imprisoned for 6 years by Israel for membership in the PFLP and planning an assassination against Israeli religious leader Rabbi Ovadia Yosef.
They have also shared content from from other PFLP-affiliated organizations, such as Al-Haq, which as I mentioned in a previous post, is connected to the PFLP through its director, Shawan Jabarin.
---
Given all of the evidence I have presented so far, can there be any doubt that the terror organization PFLP is using the NGO ADDAMEER as a mechanism for hiding its illicit activities?
In the next post I will show how they are promoting their agenda in the Western World and infiltrating the US.