A number of Israel haters are claiming Israeli snipers murdered 4-year-old Ahmed Abu Abed, shooting him in the eye.
Like Jew-hater "Jihad" Jenny Tonge
The ever unreliable Palestinian Information Center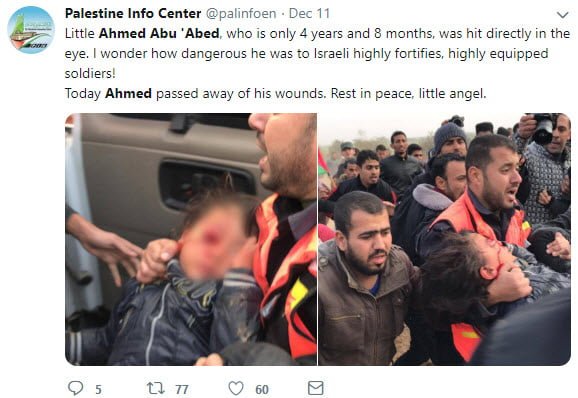 And other assorted scum and villainy
Naturally, it is yet another blood libel.
While it is not really clear how Ahmed died, what is clear is it was not being deliberately shot at by Israeli snipers.
Not even the Hamas-run Gaza Health Ministry makes this claim. And an uncle says he was hit by shrapnel.
"Ahmed Abu Abed, aged four years and eight months, died as a result of the wounds he received last Friday east of Khan Yunis," health ministry spokesman Ashraf al-Qudra said in a statement late Tuesday.

The statement did not provide further details on how the child was injured.

In the hospital where the boy died, 38 year-old Bassem told AFP he was the child's uncle.

He said Abu Abed was injured by shrapnel when his father was shot during regular Friday protests along the border.

It was not clear why the child had been taken to the border protests and there was no independent confirmation of the circumstances.
As does Ahmed's father.
Ahmed's father, Yasser Abu Abed, told Al Jazeera his son was injured by shrapnel when he was shot during regular Friday protests, dubbed the Great March of Return.

"My son saved my life," the 36-year-old said.
In other words, we don't really know how Ahmed died, but we do know how he didn't die – the way these haters are claiming.
What people should really be asking is if he did die at the Gaza "protests", what the hell was he doing there. What kind of parent would bring their 4-year-old to a violent demonstration?
Answer: A terrible one.
According to him, Ahmed, who was the youngest among his siblings, insisted on joining his father on December 10.

"I never used to take him with me," Yasser, who regularly attends the Friday demonstrations, said. "We're simply asking for basic rights."
Please help ensure Israellycool can keep going,
by donating one time or monthly