Meet Jeff Bellamar, currently of Ojai, California.
He has come to my attention through this Facebook post that has gone somewhat viral.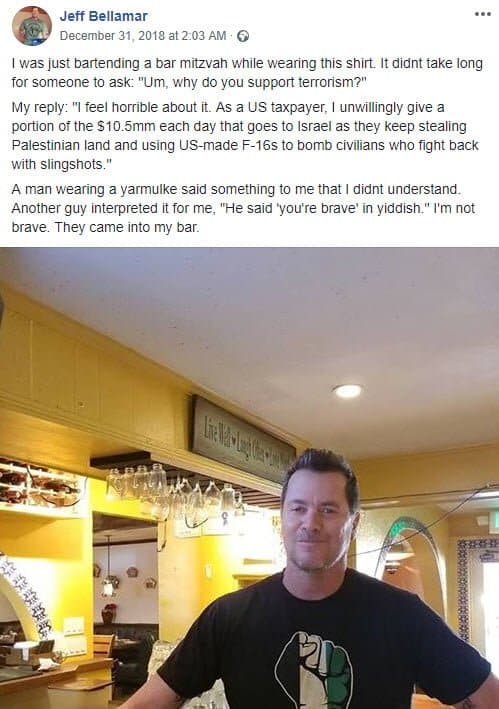 I was just bartending a bar mitzvah while wearing this shirt. It didnt take long for someone to ask: "Um, why do you support terrorism?"

My reply: "I feel horrible about it. As a US taxpayer, I unwillingly give a portion of the $10.5mm each day that goes to Israel as they keep stealing Palestinian land and using US-made F-16s to bomb civilians who fight back with slingshots."

A man wearing a yarmulke said something to me that I didnt understand. Another guy interpreted it for me, "He said 'you're brave' in yiddish." I'm not brave. They came into my bar.
I am guessing the boy and his family did not just wander into the bar, but booked it in advance (otherwise, Bellamar could be prosecuted for allowing an underage person in, no?). Which means he deliberately wore the shirt in order to ruin the simcha. What a man!
But it makes sense when you discover (as I did, pretty quickly may I add) that Bellamar is not just a hater of Israel. He detests Jews, as evidenced by his posts
…using the word "goyim", a favorite of antisemites
…accusing us of dual loyalty
…calling the Holocaust fake
…yet comparing us to the Nazis
…while defending the Nazis!
Yeah, he's confused.
…and general anti-Jew nastiness
Naturally, this Jew hater supports Hamas terrorism.
Did I mention that Bellamar appears on a website called the Ripoff Report, being accused of being a con artist by someone claiming to be his own cousin?
Jeff, thanks for playing Anti-Zionist-not-Antisemite. Unfortunately, you lose!
Update: But there's more! (hat tip: Andrew)
Please help ensure Israellycool can keep going,
by donating one time or monthly