The Most Epic Israel-Hater Dumbassery of 2018
Who Jew You Think You Are?
A Jew hater accidentally bumps into Jew-hating Jew Tony Greenstein and starts hurling antisemitic abuse at him. Confusion ensues after he is led to believe Greenstein is palestinian, followed by a priceless facial expression when he realizes Greenstein is Jewish after all.
https://www.facebook.com/521248807933259/videos/374971503244055/
He's Doing It All Wrong!
Stewart Mcgill who hates Israel and the IDF…but teaches Krav Maga. Shall we break the news to him?
https://www.facebook.com/UrbanKrav/videos/1674824769229812/
The Douchey Dare
Pretty much anything Richard Silverstein said could have made this list, but tweeting this with the iconic photo of Leonard Cohen from 1973 may have taken the cake.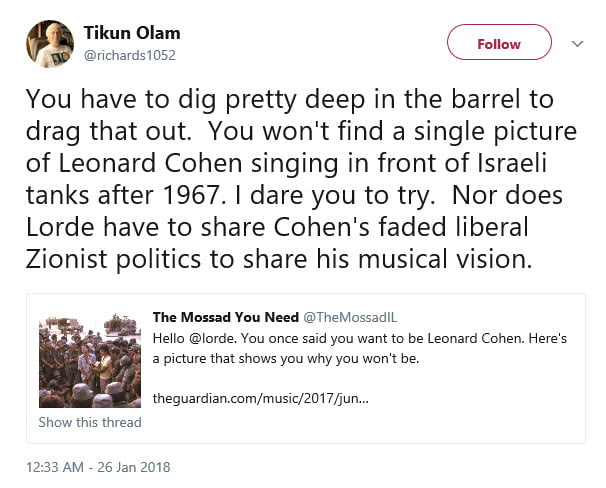 Comedy Gold
When Code Pinker and terror apologist Ariel Gold made a fool of herself on television.
https://youtu.be/mjCkzBvIR50?t=60
Your Truth is History
When IfNotNow tweeted the following, not realizing just how dumb they sounded.
Who's The Ross?
When the Days of Palestine tweeted a quote from British DJ Ross from Friends…with a photo of the actor who plays Ross in Friends!
The Ignorance
This photo of BDS-holes protesting in Berlin really said a lot – none of which they intended!
The Doctored Photo
When the Palestinian Information Center tried to pass off a photo of Izzie Stevens from Grey's Anatomy as a French doctor visiting Gaza.