Antisemite Ariyana Love's Interview With a Palestinian Goes Horribly Wrong For Her
For those who don't know, Ariyana Love is a vile jew hater I have exposed here on Israellycool. My expose on her hit such a raw nerve, that she published libelous accusations against me and my wife, and sent them to my place of employment (with the assistance of fellow Jew-hater Brendon "Brendover" O'Connell). But as I said at the time and reiterate now, I don't give in to threats and intimidation.
Be that as it may, the really-not-aptly-named Love recently interviewed a BDS-hole by the name of Younes Arar, who she invited on to bitch about Israel.
Bad move. She soon learned that as much as he hates Israel, his hatred for Hamas is even stronger.
With the help of Israellycool reader Tommy, I have distilled the best parts of this train wreck of an interview. Arar confirms many things we knew about Hamas, including:
Their extreme brutality against their own people
Hamas being in charge of the 'March of Return' and engaging in violence
The fact many of the so-called medics were really Hamas terrorists
Hamas being responsible for the devastation in Gaza
Hamas profiting off their own people
Note how Love is extremely uncomfortable listening to what Arar has to say about Hamas, but is polite to his face, pretending to have been enlightened by him. Yet, this is how she introduced the video on her Facebook wall: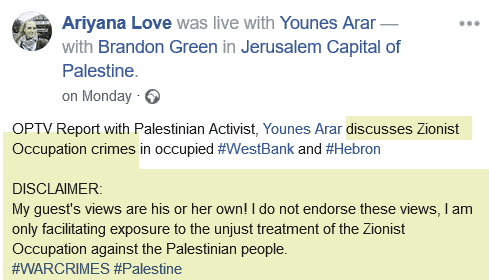 No mention of Hamas and a big disclaimer rejecting Arar's views.
Such is the way of the intellectually dishonest antisemite – only motivated by hatred of the Jewish people and dismissive of anything that does not help their evil cause.
But there will always be people like me to use their own words and "work" against them. So thank you, Ariyana, for this gem of a video!