Esteem Publications Tweets Antisemitism & Then Claims They Were Hacked
Esteem Magazine describes itself as the biggest free lifestyle magazine in the UK. And judging from this now-deleted-but-immortalized-tweet, this apparently means they feel the need to comment on the lifestyle of Jewish people (hat tip: Tommy).
The backlash to this overt, vile antisemitism has been swift and devastating, prompting Esteem to tweet this: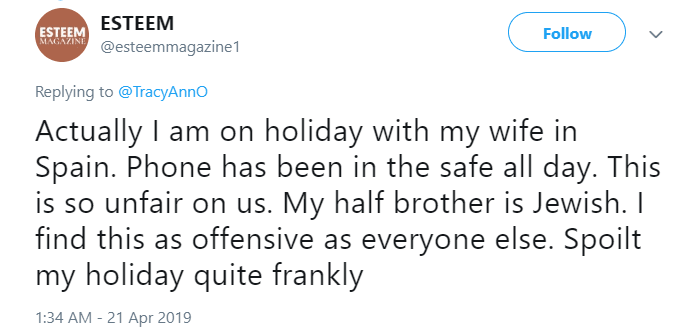 Note not one condemnation of antisemitism. As for the 'we were hacked" explanation, I call BS…and here's why.
Style & Tone of "Hacked" Tweet Similar to That of Subsequent Tweets
Compare the antisemitic tweet to the cowering explanation tweets. It seems to be the same person behind all of them, judging by the similar tone and style, including poor grammar.
A Real Hacker Would Not Post This
Among their tweets while the account was supposedly hacked is this:
A real hacker would not be defending Esteem in this way.
Similarly, why would a hacker be engaging with a tweeter via Direct Message, defending their views?
It does not make any sense. A true hacker would tweet their racist bile and not be defending the "real" account, since the goal of the hacker is to damage the reputation of the hacking victim.
Esteem's Founder Seems to be a Bigot
The founder of Esteem is a guy called Neil Saville. He is also a director at Copper Top Media, responsible for Esteem's social media.
I'll let some of his social media posts do the talking.
He also seems to be a misogynist, judging by many of the photos he has posted.
---
Based on the offending tweet and the likelihood it really did come from Esteem, I encourage you all to let them know how you feel about their antisemitism.
Tel: 0113 2580752
Oh…and please boycott them and spread the word!
Update: And they've blocked me.
Which would be an odd thing to do if they were, say, innocent victims of a hacking and not antisemitic at all.