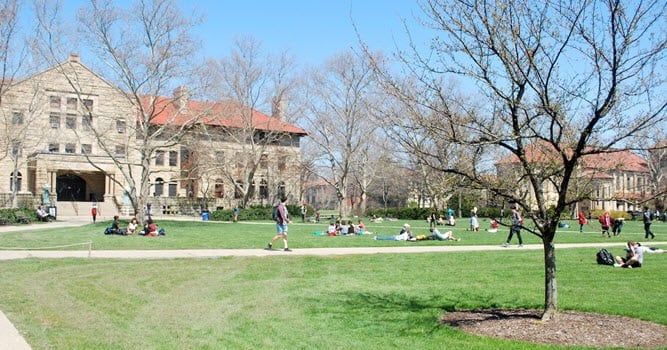 Antisemitism unites the far-left and the far-right.
When Congresswoman Ilhan Omar said that pro-Israel Americans have an "allegiance" to a "foreign country," echoing a classic antisemitic trope, she earned the support of former KKK Grand Wizard David Duke. He called her "the most important member of the US Congress," saying that she showed "defiance to Z.O.G." (the "Zionist Occupied Government."). When white nationalist Richard Spencer falsely compared Zionism to white supremacism, the left-wing anti-Zionist group Jewish Voice for Peace was quick to pick it up.
Then there's the former Oberlin College student who became a Neo-Nazi.
Antisemitism at the ultra-progressive school has been documented in the media and by alumni. Most of it is of the left-wing variety: Currently, seven student organizations, including the Student Senate and the college radio station, are campaigning to boycott Sabra hummus. In March Abbas Hamideh, who, according to the ADL, "has a record of praising terrorist groups including Hamas and Hezbollah," was on campus to attend a lecture by propagandist Noura Erekat sponsored by Oberlin Jewish Voice for Peace.
https://twitter.com/Resistance48/status/1102741217425743872
It's not limited to this semester, though. It's a problem that has been going on at the school for years.
Yet, one former Oberlin student, Dylan Bleier, has been described as holding views amounting to "full-blown neo-Nazism."
In 2013, racist, homophobic, and anti-Semitic flyers were hung around the Oberlin campus, with messages like "Third Reich Lives on!" as well as "Don't condone so-called 'self-defense.' Don't 'stand with' Israel." The flyers included virulent anti-black messages as well. According to both the Badger Herald, a student newspaper in Madison Wisconsin, and the Oberlin Review, Bleier was one of two students behind those flyers.
At the time, he claimed they were a joke. Although he was disciplined for his actions at Oberlin, he still managed to eventually obtain a teaching assistant position at the University of Wisconsin. He was, however, removed from this position "after his online antisemitism was revealed in an exhaustive investigative piece." This online antisemitism was said to include a tweet that said "Hitler did nothing wrong," as well as "1488 gas the kikes race war now." ("1488," according to the ADL, is "a general endorsement of white supremacy and its beliefs"; Bleier's Twitter account is no longer available.) The Badger Herald also reports that while at the University of Wisconsin, Bleier became involved with the Neo-Nazi group Proud Boys.
Bleier, like other white nationalists, also posted messages that were racist towards other groups. But it's antisemitism that ultimately "animates white nationalism."
The tenets of Neo-Nazi antisemitism and the tenets of far-left antisemitism overlap in many ways. As noted above, both right-wing antisemitism and left-wing antisemitism falsely assert that Israel has excessive power over the US government. Both falsely assert that Zionism is similar to white supremacism. Both promulgate hateful stereotypes – one explicitly about Jews, the other frequently veiling its intent by talking about "Zionists," which of course includes the majority of Jews. Thus, it is easy to see how Oberlin was a breeding ground for a neo-Nazi like Bleiers, as well as for the far left antisemitism of groups like Jewish Voice for Peace.
Please help ensure Israellycool can keep going,
by donating one time or monthly