Palestinian propaganda site The Palestinian Information Center has posted yet another supposed "Zionist" crime.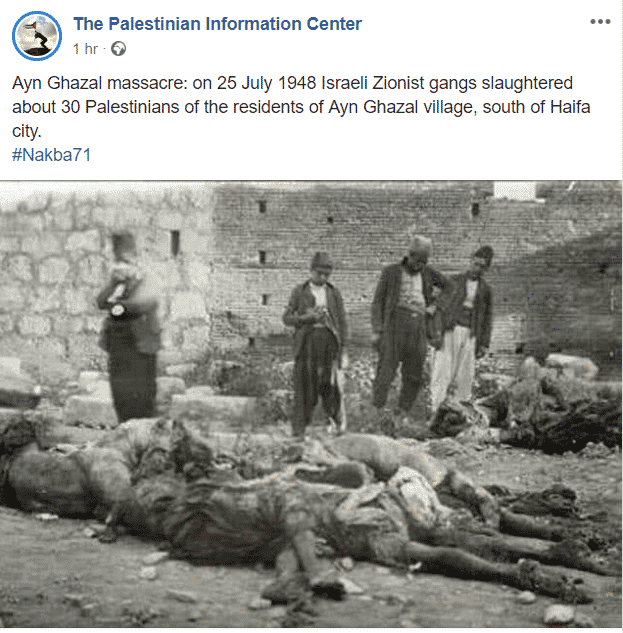 Upon first glance, I knew this photo was not from 1948, and suspected it was not even from then Palestine. A reverse image source confirmed it – it is a photo from the Adana massacre of 1909, in which Ottoman Muslims slaughtered Armenian Christians in the city of Adana, Turkey.
Besides the fake photo, the claim that we "slaughtered about 30 palestinians of the residents of Ayn Ghazal village" is also false. Israeli forces did operate in the area "to clear the Tel Aviv – Haifa Road, which had been closed by the Arabs to Israeli traffic." The Israelis had been "forced to take a long and dangerous route" thanks to villager sniper fire, and roadblocks, mines, trenches and foxholes along the road set up by the villagers. During the operation, we were met with stiff resistance, and while many Arabs did die, United Nations observers who toured the destroyed village after the attack found no evidence of a massacre as claimed by Arab sources (although they did not think the operation was justified).
It is no wonder the Palestinian Information Center had to use a fake photo – they wanted to depict something that never occurred!
Please help ensure Israellycool can keep going,
by donating one time or monthly