In further proof yesterday was a day ending in 'y', the Palestinian Information Center (PIC) posted about an alleged Israeli crime.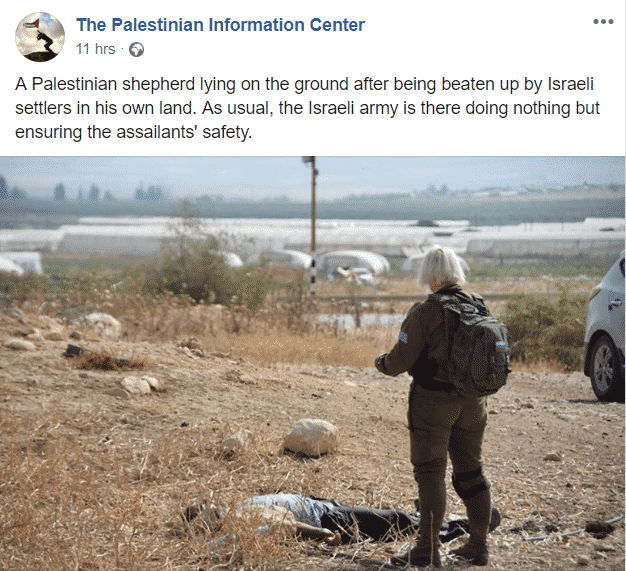 While I was not there and cannot attest to what did happen, I can say with certainty that things are not as PIC and others would have you believe. I know this, because, as usual, they cannot get their story straight.
According to IMEMC News:
Aref Daraghma, a Palestinian human rights activist, said the illegal colonists chased several Palestinian shepherds in Khallet Hamad area.

He added that the colonists assaulted one shepherd, identified as Rabea' Mahmoud Awwad, causing cuts and bruises.
WAFA reports the injured shepherd suffered "bruising" only.
Neither cuts and bruises or bruises only are consistent with the photo of a person lying on the ground as we see in the PIC post. Although this palestinian site claims the shepherd was shot at gunpoint!
It is very simple: if you have the truth on your side, you do not need to lie. And clearly, there is some lying going on here.
Back to the PIC post and the claim "the Israeli army is there doing nothing but ensuring the assailants' safety" – here are some more photos (from a palestinian FB page) from this incident:
Again, I was not there but these photos indicate the IDF helped facilitate the transfer of the man to a hospital. Hardly "there doing nothing."
For all we know, the man was dehydrated. We do not know what happened, but what we do know is Palestinian Information Center and others cannot get their story straight.
Please help ensure Israellycool can keep going,
by donating one time or monthly