The Times of Israel reports how Jewish Seattle City Council candidate Ari Hoffman has been getting death threats from antisemites.
When Ari Hoffman opened his front door after the Jewish holiday of Shavuot, he saw a note from the police. Anti-Semites were targeting him online, it said. Was he safe?

Hoffman, 38, a candidate for City Council, was safe. But he learned that his neighbor was posting messages on 8chan, a forum friendly to the far right, noting that Hoffman had an Israeli flag in front of his house and asking what he should do.

One of the responses: "Kill [him]. Literally kill [him]. Burn the flag along with [him], dead or alive."

Another user found a photo of one of Hoffman's children and posted that he "literally looks like a anti-semitic caricature." The posts were flagged by the Middle East Media Research Institute, a pro-Israel media watchdog.

The American Jewish Committee condemned the threats. One week later, Seattle Mayor Jenny Durkan wrote in a statement that "I condemn and reject any anti-Semitic attacks and threats of violence on Mr. Hoffman and his family."

"It's pretty scary when you see that kind of stuff," Hoffman said. "It's not easy on my wife. She's taking it pretty hard."
This should horrify all Jews. All Jews but DouchebloggerTMRichard Silverstein.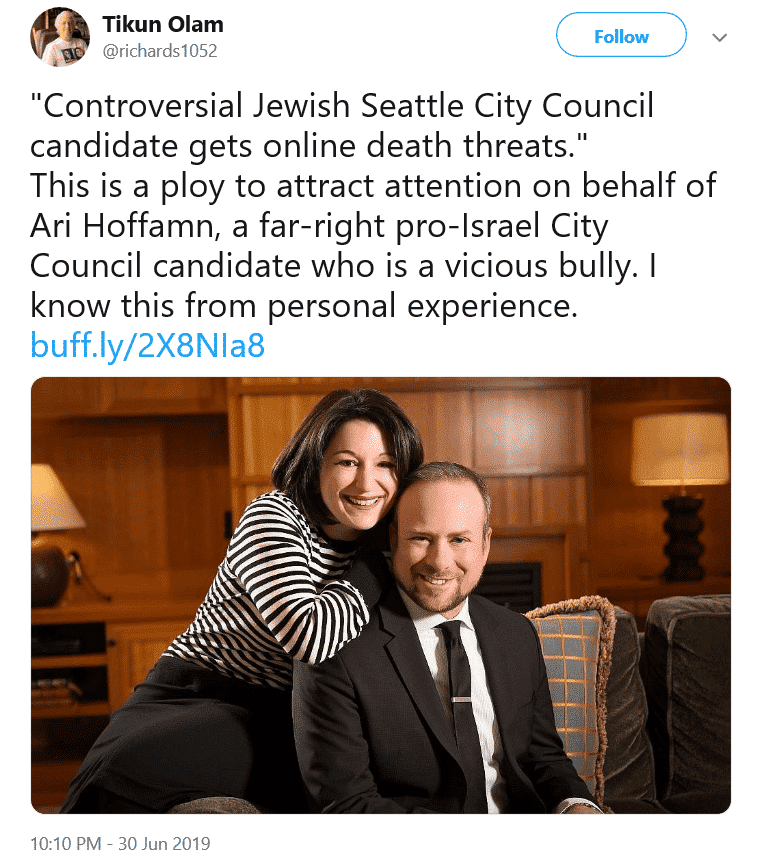 Dicky is claiming Ari did not receive any death threats and that this is merely a ploy. I wonder if his "secret source" told him this, because I would have thought this is not something he would know. Then again, when has he ever claimed anything based on evidence?
At the same time as claiming this is a ploy, Dicky is implying that Ari deserves any hate thrown his way, including from antisemites. Because to Dicky, the enemy of his enemy is my friend, even though they would want him as dead as they want Ari.
For his part, Ari has responded to El Doucherino:
By the way, this is what Ari meant when he tweeted "I know you can't pronounce the name of your own blog."
It never gets old – unlike Silverstein's pathological hatred of Israel and all of us who support her.
Please help ensure Israellycool can keep going,
by donating one time or monthly