In a clearly antisemitic attack on September 11 of all days, the Baba Sale Congregation in the Fairfax district of Los Angeles was defaced with "Free Palestine" graffiti.
After prominent Israel advocate and philanthropist Adam Milstein tweeted about it
#Jewish Synagogue tagged with #Antisemitic graffiti in Los Angeles by BDS activists. BDS is the 21st Century #Antisemitism, it radicalized all other extremist movements, promotes violence against Jews and resembles the Nazi methods to boycott The Jewish people. pic.twitter.com/Ue9zB7hBym

— Adam Milstein (@AdamMilstein) September 11, 2019
the German-based BDS Wiesbaden group justified the attack.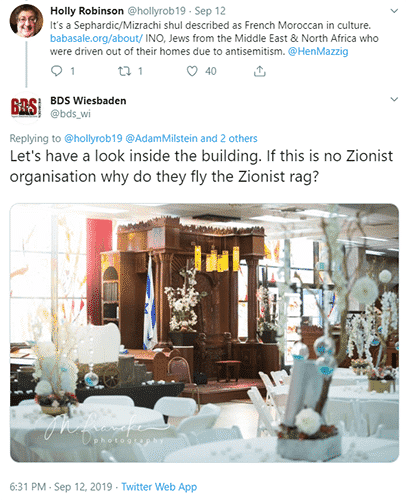 And then doubled down
But BDS Wiesbaden were just getting warmed up in showing their own antisemitism, demonstrated by tweets disparaging Jewish belief
(although they do seem rather confused)
Comparing us to Nazis
Claiming we worked with the Nazis
and repeating the oft used antisemitic trope of Jews being European colonizers
This was all going on while the mother ship was trying to convince us otherwise
Yet further proof that BDS, on top of being terror supporters and collaborators, is an antisemitic movement.
Please help ensure Israellycool can keep going,
by donating one time or monthly