Jewish Voice for Peace Again Show They Are As Jewish as a Bacon Latke
Last night was the first night of Chanukah, which means Jews around the world lit the Chanukiah for the first time this year.
Here's how the Chanukiah looks after being lit for day one:
https://www.facebook.com/Netanyahu/posts/10156915155737076?__xts__%5B0%5D=68.ARD2XjoXeeaPMuxy64cKiAhAOEv-CT9w9RlbQbgmL6WE-GPnITERIst9oHh6tm3NicFLZHfCQo-xYUQR14BdK9yzlsd-5SLbs64PAhy_QtfimbkxDt0bYTpMRpG6-Fgmf5it2ZnJV4jUNIc3an1rTCU0c-QykMXlucG93ZBm3c_81DwzQLq95UzolciwOfysFq4C4h-PuByOHb1ZGNTbYHGoSj3uGnK6GukQsO6uL1LktUta2MpVG6EvNDDc-zAD0dtWwqvD1eVxroh8kQSiIr9ldgY8vBBwgUbJvJ6ZVfdoqyaRqXmFys9vJOvMhA8N1nWsllGJ7uodhOIWQHMI&__tn__=-R
Note two lights are kindled: the shamash "attendant" that is used to kindle the other lights, as well as one light signifying the first day.
I bring to you this brief primer on lighting the Chanukah lights because of what Jewish Voice for Peace (JVP) have posted on Facebook: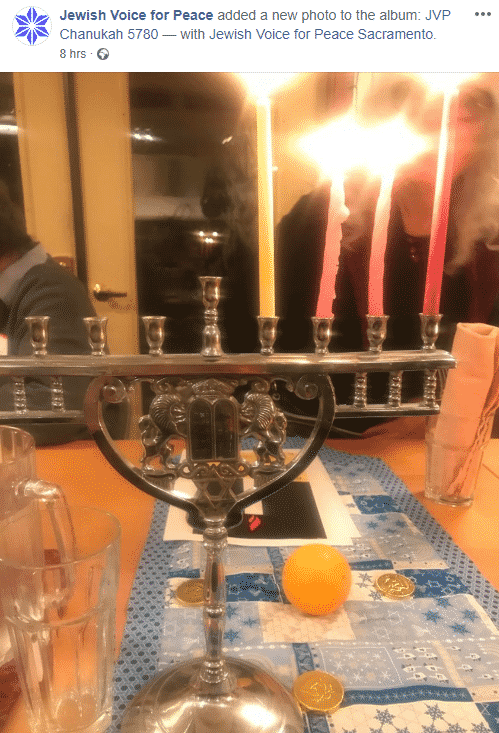 Perhaps it was posted by their non-Jewish Lebanese page manager, or even guest poster Ariel Gold? (Although JVP have shown they are as Jewish as a ham sandwich bacon latke of many an occasion). Heck, the very fact they celebrate Chanukah – which not only commemorates the rededication of the Holy Temple in Jerusalem over 2000 years ago, but also our victory over the same civilization that first wrote the term "Palestine" – while screaming "occupation" and dedicating themselves to Israel's destruction – shows just how painfully ignorant and unaware they are.
As I wrote previously, they are the equivalent of the Hellenist Jews of that time – assuming they are even Jewish at all.