Linda Sarsour Fundraising for Terror-Linked Organization
Linda Sarsour is helping fundraise for an organization called Baitulmaal USA, supposedly for their "COVID-19 Emergency Fund and their support of the people of Gaza" (hat tip: kweansmom)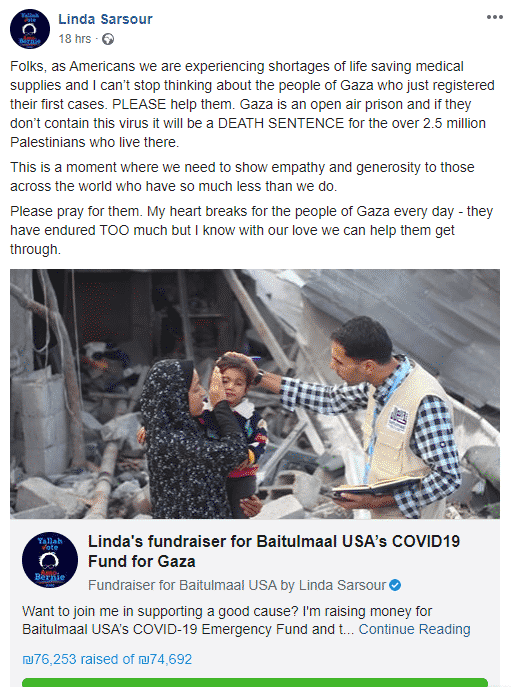 even doing a live Facebook session for them
https://www.facebook.com/linda.sarsour/posts/10158587831620572?__xts__%5B0%5D=68.ARBpFwqa9vD0DpWjmJkw4TZoRmKrZx6wIE-_407Q_-C8MuaNdm2KqrZTW4WwA35dsGoCKWi9_etBwE4uc3gJzWBMOooISdSlsJBXiLlaH3RX-jnciKJmHlBkz37yCtUKauliUk7ggIgBwScttzYvtDDJfrfN9zRDMUx4luCFg8wn0DmjvC5x1YD27X01l9MOvJ5_QDgk0HK7GdqvlvZaPOdDzKTRAa0a6lV2PiwTurkiDXZHuTr6U04I44AvOIYzOCJaYiiSE1quTI4T-527qHue-4G3fSbA1p_-IyxsRegXd52Zx39s7j0pmjyeGpGvFLV4z9Jnkaq7FA1auOm12VrjfNdtNQ&__tn__=-R
It turns out that Baitulmall are up to their eyeballs in terror support and connections:
The Baitulmaal is an American Muslim organization that provides humanitarian aid around the globe. It was established in 2004 and its headquarters are in Irving, Texas (Baitulmaal Facebook page; meforum.org, October 24, 2018). The organization was founded by Hassan Haj Mohammad. On April 3, 2006, while visiting Judea and Samaria, he was detained by Israel on charges of funding a Hamas charitable association in Jenin (myplainview.com; Jerusalem Post, June 30, 2006, quoting an AP article). Between 2001 and 2017 Suleiman al-Ghanem was the organization's secretary general. Today he is the CEO of United Hands Relief (UHR). Baitulmaal's executive director is currently Mazen Mokhtar, who was previously the executive director of the Muslim American Society (MAS). In 2015 he called suicide bombing attacks "an effective method of attacking the enemy and continuing jihad" (investors.com, February 13, 2015).

—

Baitulmaal, also known as AHED, was officially established in 2004 by a Palestinian-Jordanian named Hasan Hajmohammad. However, Baitulmaal claims to have actually been around since 1991, at one point operating under a group named the Islamic Trust of North Texas (which employed Hajmohammad as an imam and sponsored his visa).

Hajmohammad is the brother of the Jordanian Islamist parliamentarian Mohammad Al-Haj, who has stated that bullets are "are only to be directed at the occupying Zionist enemy." In 2002, while in Texas, Hasan Hajmohammad received a police citation at a protest against Israeli Prime Minister Ariel Sharon, after he "grabbed" a counter-protestor "by the neck and began to hit him in the face with his fist." In 2006, while visiting Jordan and the Palestinian territories, Israeli authorities arrested Hajmohammad over claims he was funding a Hamas front organization in the Palestinian town of Jenin.

—

The U.S. government fought Hajmohammad's lawsuit, pointing to his involvement with three organizations (including Baitulmaal) found during the investigation into the Holy Land Foundation to be linked with the Muslim Brotherhood. When the government stated its intent to introduce evidence from another case against a Hamas operative named Ismail Elbarasse, Hajmohammad's attorney quickly applied to dismiss his lawsuit, claiming that the "defendant has effectively brow-beat Plaintiff into acquiescence."

—

When asked, Baitulmaal did not disclose a list of its partners. In the Palestinian territories, however, grant recipients seem to be a little more open about their benefactors. The Unlimited Friends Association for Social Development (UFA) is a Gaza-based charity that claims to "provide relief, emergency and developmental services to marginalized areas and people in need." However, UFA openly works with senior Hamas officials.

In Gaza, UFA helps Baitulmaal hand out cash to the "families of martyrs of the Palestinian people," whom UFA has described as those killed resisting "the ongoing slaughter against the Palestinian people."

UFA has never been shy about its affiliations. It advertises in the prominent Hamas daily newspaper, Felesteen, in which it mentions its support from Baitulmaal. And on UFA's Facebook page, its officials have written: "We ask God to drive away the anguish of the heroic prisoners in the Nazi Zionist jails and to free Al-Aqsa Al-Sharif [the Noble Al-Aqsa] from the filth of the most dirty Jews."

To some extent, UFA appears to operate as a Palestinian affiliate of Baitulmaal. UFA's chief employees, in fact, have also identified themselves as Baitulmaal employees. And the clear majority of UFA's overseas donations come from the Texas charity.

In the West Bank, Baitulmaal's partners are just as concerning. Baitulmaal fundraises for the Yazour Charitable Association. In 2008, the Israelis accused Yazour Charitable Association of being a Hamas organization, which Hamas media subsequently confirmed. One Palestinian newspaper reports that Baitulmaal and this Hamas front have been working together "for years."

We also asked Baitulmaal about its financial support for UFA and the Yazour Charitable Association, but received no response.

Baitulmaal's Islamist activities are not confined to its unaccountable spending in the Middle East. In America, Baitulmaal is closely involved with prominent Islamists. Its most recent executive director, Suleiman Alghanem, is involved with the Hamas-linked group, American Muslims for Palestine. And Baitulmaal's events have featured speakers such as Osama Abu Irshaid, who has praised Hamas as "an army for liberation" whose fighters "rise up for the blood of martyrs."

Baitulmaal has many affiliates, subsidiaries, and partners who have similarly escaped past scrutiny. Baitulmaal's tax returns reveal donations worth hundreds of thousands of dollars to dozens of similar Islamist charities and groups across America, including charities linked to the Muslim Brotherhood and the Turkish regime.

Some of these charities share officials: United Hands Relief for example, is a new charity run by Baitulmaal's own Suleiman Alghanem. United Hands Relief's 2016 tax return even recorded its original name as Baitulmaal Relief and Development. In fact, in Gaza, UFA and Baitulmaal employee Amjad Mansour now claims to run United Hands Relief's Palestine office as well.

Meanwhile, former Baitulmaal President Abuabdallah Boumidiene also served as CEO of the terror-linked charity LIFE for Relief and Development, which, along with United Muslims Relief, are also donors to UFA in Gaza. All of these charities partner closely, both privately and through international bodies such as the UN.

—

Bailtulamaal, Inc. is a member of the Union of Good, a charity sponsored by radical Egyptian cleric Sheikh Yusuf Qaradawi and tagged in 2008 by the U.S. Treasury as a Specially Designated Global Terrorist Group.

The Gaza-based Unlimited Friends Association for Social Development (UFA) "is closely aligned with senior Hamas leaders" and "openly states that it channels funds from Baitulmaal to the 'families of martyrs of the Palestinian people,'" the complaint says.

"Baitulmaal has openly distributed meat to Hamas functionaries and government workers on Muslim holy days claiming that "it is a matter of principle for the charity to help [Hamas] officials who can't afford to buy meat," it adds.

—

UFA's most important U.S. supporter is Baitulmaal, another charity. Saying they help Baitulmaal distribute cash to the "families of martyrs of the Palestinian people," UFA officials have published photos to corroborate the claim.

These cash handouts are part of an "Orphan Sponsorship Program." In videos published by the UFA, it defines orphans as those who have lost their fathers (not their mother), some of whom, it claims, were killed resisting "the ongoing slaughter against the Palestinian people."

It would appear that American money is being given to the families of Hamas terrorists.

UFA and the U.S. charity Baitulmaal have such a close relationship that they even share the same staff. UFA officials Jomaa Khadoura and Amgad Mansor identify themselves as Baitulmaal employees. Mansor has promoted the views of Nabil Awadi, an Islamic cleric whom the Daily Mail has described as the "key financier" of the Islamic State.
I easily found all of this information with a quick Google search. Do you think that the intelligent Linda Sarsour is not aware of all of this?
I believe not only is she aware, but she agrees with, and supports, it all.