Where the 'Woke' Left Learn From and Defend Antisemites
The following photo at a London Black Lives Matter protest has gone viral on social media.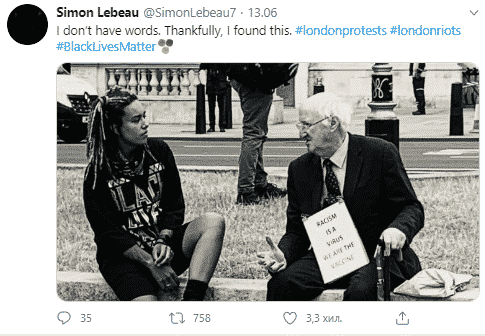 https://www.instagram.com/p/CBV6XqbghBP/
https://www.instagram.com/p/CBauDnjgbNy/
Let me hear it…1…2…3….awwwwwwww!
There's just one minor problem.
After last weekend's Black Lives Matter demonstrations, a heart-warming picture emerged on the internet. A kind-faced, suit-clad, elderly white man with a sign saying, 'Racism is a virus, we are the vaccine', sat deep in thoughtful conversation with a young Black woman. The image went viral on Facebook and Twitter garnering millions of views and hundreds of thousands of likes and shares. An apparent beacon of hope against racism.

One minor issue. That kindly, elderly man? His name is Jim Curran, an Irish nationalist and regular attendee at meetings of the Far Right/Left crossover group, Keep Talking. This extremist organisation was recently exposed by the CST and Hope Not Hate. They detailed how extremists from across the political spectrum (ex-Labour members Elleanne Green and Peter Gregson, Gill Kaffash and Tony Gratrex formerly of the Palestine Solidarity Campaign and convicted Holocaust Denier Alison Chabloz and former KKK Grand Wizard David Duke compatriot, James Thring) met to obsess over antisemitic conspiracy theories: from the 'Jews did 9/11' to outright Holocaust denial.
Ok, that could be an honest – if not very embarrassing – mistake. But it's what happened next that is bone-chilling.
Curran's identity been brought to my attention by antisemitism researcher, David Collier, I tweeted at two top accounts who were sharing the picture to explain Jim Curran's background.

Their response? To block me. And not just me, but everyone raising the issue.

Meanwhile, when I tweeted the woman in the picture, Rosie Smith, she said: "He is an activist and a beautiful man. Spoke some real deep truths". And then – chillingly – "His words brought me to tears. He said the genocide the news [sic] went through, was nothing on slavery and what black people endured and are still enduring".

It seems Jim Curran had literally been dripping Holocaust denial into her ear, at an anti-racism rally.

Ms Smith went on to say: "I…judge him on our convo and from his vibe and his work. The jews are not innocent, #israelosnotinnocent they deal with mad racism!". And also blocked me.

Despite the fact that concerns about Mr Curran were now flowing around social media, a series of prominent media and social justice organisations were more interesting in promoting the romantic narrative that than the messy truth. The Labour group, Momentum, posted the picture on their Facebook page with the caption "more of this please" and a leading figure in Amnesty UK shared it. Pro-Europe organisation, Best for Britain, defended their decision to promote the image on their Facebook page (to my utterly jaw-dropping disbelief) saying:

"Some people have identified that the old gentleman in the photo is a holocaust denier. We believe that this fact makes it even more important to share this image. It is worth applauding the fact that these two people from different generations have found common ground, and had a friendly conversation in the middle of a day of violent protests." (My italics).

—

And, even more worryingly, over 24-hours after details of Mr Curran has been brought to light, ITV News hosted Mr Curran and Ms Smith on their "and finally" segment. ITV News are deleting comments on their Facebook page raising the concerns.
What makes this even worse (yes, it gets even worse) is that this is not even the only example of this phenomenon. Just yesterday, a number of Hollywood celebrities fawned over vile antisemite Louis Farrakhan
On Monday Chelsea Handler posted an old clip of Louis Farrakhan on The Phil Donahue Show answering questions from a mostly white audience about white supremacy. "I learned a lot from watching this video," Handler wrote, and apparently she wasn't the only one. Actress Jessica Chastain also re-posted the video clip to her Instagram story, and according to several circulating screencaps of Jameela Jamil's Instagram, she too may have posted it before deleting. "Powerful," Lisa Rinna wrote in the comments to Handler's video. "This should be played on a loop. Everywhere. Always," wrote Sean Hayes.

Farrakhan, for the celebs who may be unfamiliar, is a minister and leader of the Nation of Islam, which has been classified as a hate group by the Southern Poverty Law Center. While he has denied being anti-semitic, Farrakhan has previously called Judaism a "gutter religion," has referred to Adolf Hitler as a "great man," and has spoken about "powerful" and "Satanic" Jews as being his enemy, among many other statements condemning Jewish people. But Handler seems to be familiar with his background, writing to a commenter who called her out for posting the video, "Hitler was responsible for killing millions of lives. Farrakhan is just responsible for his own promotion of anti-Semitic beliefs. They are very different."
When pointed out to Handler, she did not apologize and remove her post. She doubled down on it, also seeming to blame the Jews.
Let's face it. To these "anti-racists," all animals are equal but some animals (non-Jews) are more equal than others (Jews).