Canadian Defenders for Human Rights Propagate Antisemitic Conspiracy Theory
Canadian Defenders for Human Rights (CD4HR) describes itself as "a Canadian registered not for profit organization with a dedicated team that works tirelessly to defend the rights of humans of all backgrounds, colours, and faiths." They claim they "believe that justice is the base that supports the whole world. Any form of oppression worldwide has to be exposed and resisted against."
Except hatred against the Jewish people. That needs to be propagated through antisemitic conspiracy theories.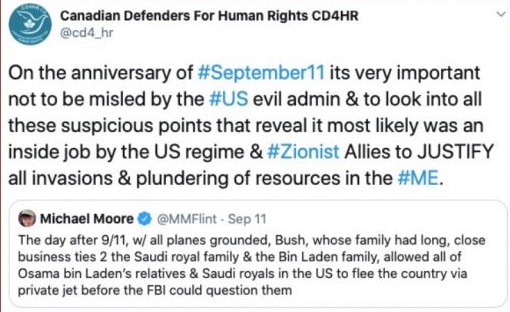 The tweet no longer exists; either they deleted it or it was removed after being reported. Either way, the Internet is an unforgiving beast – especially when you have the receipts in the form of a screenshot.
Not that these "human rights defenders" are apologetic. They prefer the dig a deeper hole" approach.
My friends over at Honest Reporting Canada have launched a campaign to have Twitter de-platform CD4HR. I am not so for that – I do not mind having their antisemitism for all to see, since it shows the connection between hatred for Israel and hatred for the Jews. Rather, I would like to see their non-profit status revoked.
Are there any lawyers out there familiar with Canadian non-profit law? Let's do this.