Sky News Arabia Slammed for Photoshopping Out 'Palestine' Poster
Just another excuse for the palestinian Arabs to hate the UAE:
Al Nimir House slammed UAE based Sky News Arabic's trial to remove artwork, holding the name of Palestine, that was on the wall behind a guest, who appeared on the TV channel.

During an interview with Prof. Frederick Matouq on the Beirut port blast last August, Sky News Arabic photoshopped a "Visit Palestine" antique poster that dates back to the 20s of the last century.

The poster, which was hanged on the wall behind Matouq, was photoshopped to read "Visit Lebanon" instead of "Visit Palestine".

In a statement issued on Saturday, Al Nimir House, where the interview was videoed, said on August 14, a team from the channel visited Al Nimir House for Arts and Culture in Clémenceau in order to make the interview that was supposed to be published within "The Story" documentary.

The statement added that among other artworks, a poster under the title "Visit Palestine", which was made by the artist Amer Shomali, appeared in the interview.

"But we were surprised today after uploading the interview on Sky News' Instagram account that the aforementioned artwork had been doctored, turning the sentence to "Visit Lebanon"."

Al Nimir rejected Sky New's move and called it a "shameful assault" that targeted the artwork in question.

"The move lacks the most elementary ethical principles of professional journalism", it stated.

Sky News Arabic as the first Emarati channel to interview the Israeli Prime Minister, Benjamin Netanyahu, following the normalization deal.
It is unclear from the report and screenshot whether the poster in question is the original Visit Palestine poster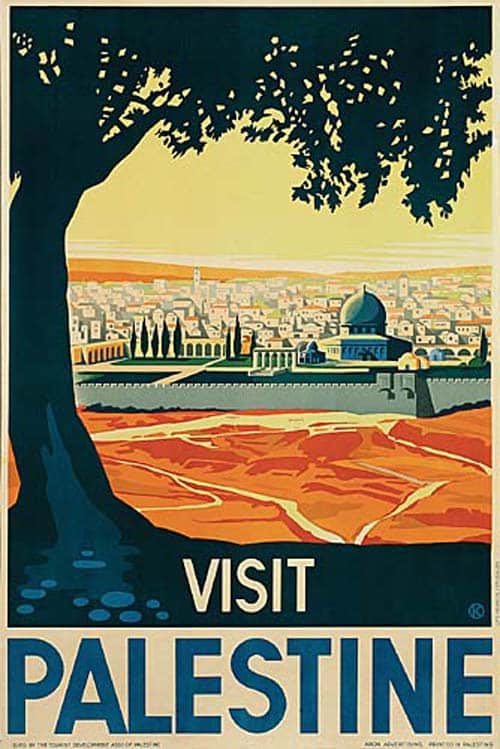 or the "satiric appropriation"* version created by artist Amer Shomali 70+ years later.
If it is the former, they should be thanking Sky News Arabia for removing it, given it is a Zionist poster first designed in 1936 (not the 20s as claimed in the report) to promote Jewish tourism to the Holy Land prior to the creation of the state of Israel, and which the Israel-haters and antisemites constantly post without knowing its origins
*yeah, apparently they are allowed to appropriate our stuff, while crying we appropriate theirs